Music to Her Tastebuds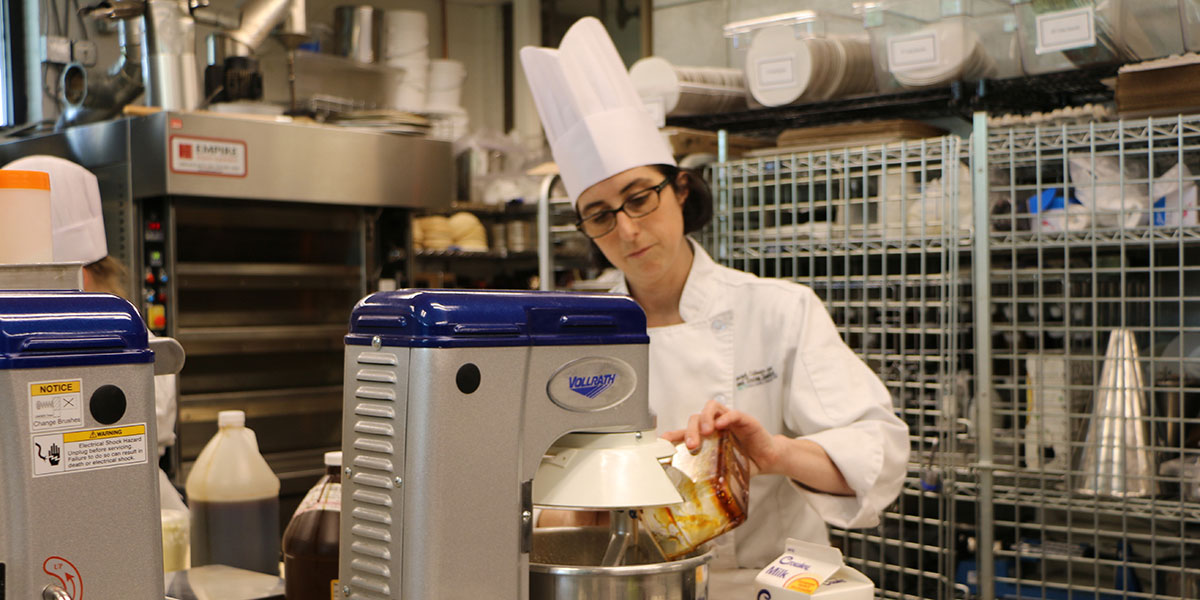 Five years ago, if you had told Carrie Svoboda she'd be making a fig and apple tarte Tatin with orange spiced ice cream and raspberry sauce for a three Michelin star chef in Scotland, she wouldn't have believed you. Often in the middle of a gaggle of school children making music, it was far from the music teacher's mind.
Somewhere along the line, she began to long for a change. In 2013, after careful research and encouragement from her family, the Stevensville resident and New York native enrolled in AACC's award-winning Hotel, Culinary Arts and Tourism (HCAT) program, eager to pursue her first love.
"I have always been a baker," Svoboda said. "When I was 5, my first job was going to be owning a bakery. Then life happens."
This time around, she's taking things slow – in part because of family obligations, but also because Svoboda is soaking up everything she can. It's that mindset that led her to Scotland last fall.
Joining four other students and a couple of HCAT faculty and staff members, she was part of a culinary team invited by the City of Glasgow College to celebrate activities for the grand opening of its new city campus. In addition to a Principal's Gala Dinner, the AACC team went up against a team of Glasgow culinary students to prepare a three-course meal from a basket of mystery ingredients.
While the Scotland team narrowly eked out a victory over the AACC students, Svoboda is proud of her team's efforts and considers the trip to be a once-in-a-lifetime experience. She says it's also one you don't expect to find at a community college.
"We were critiqued by two chefs, one a three Michelin star chef. Just to have the opportunity to hear the comments from someone at that level is something most of us will never see," she said. "And the bonds we formed with the Scottish students, and even each other, were unbelievable."
Svoboda, who today works part time for HCAT as a kitchen assistant and adjunct faculty member, says she couldn't be happier with HCAT's program.
"Our program is unlike any other program I've seen. If our chefs go out into the industry and learn a new skill or technique, it's in our program the very next week. That's unheard of. In other programs, it can take a year and a half because it has to go through so many levels of approval."
So far, she has earned a certificate in Baking and Pastry Arts and has completed all of her lab classes. While she already has a bachelor's degree, she still plans to earn an associate degree. Ultimately, Svoboda hopes to marry her two loves – baking and pastry with teaching. Until then, she plans to continue learning everything she can, wherever it takes her.
December 2016