AACC Earns National Diversity Award for Second Year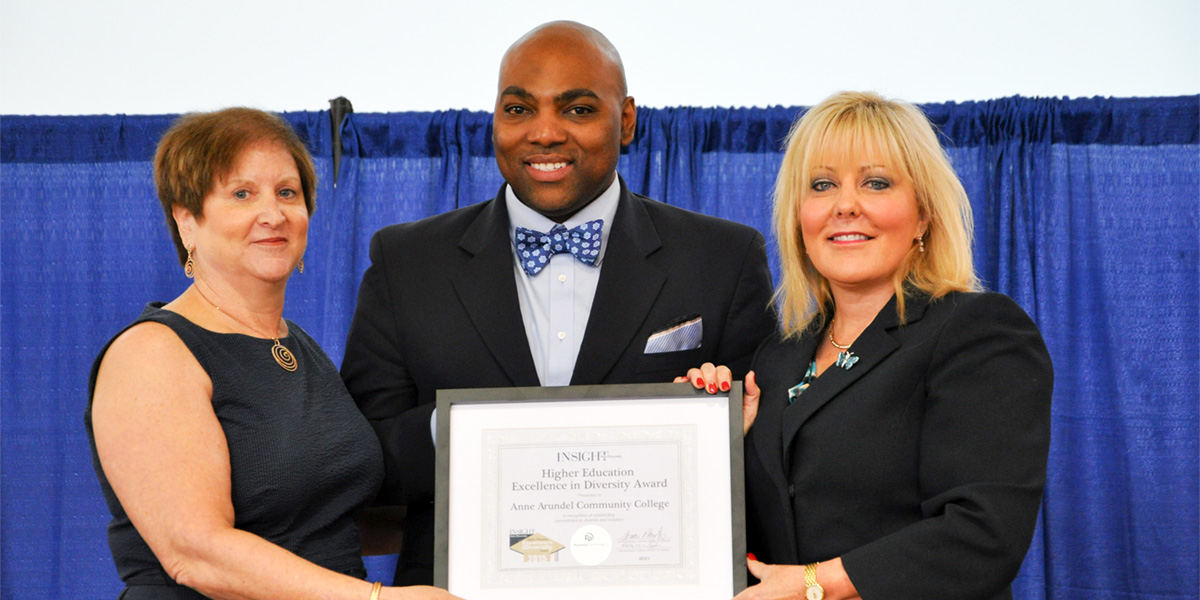 Anne Arundel Community College recently received the Higher Education Excellence in Diversity (HEED) Award for the second year in a row. The 2016 award comes from INSIGHT Into Diversity magazine, the oldest and largest diversity-focused publication in higher education.

As a recipient of the award, the only national honor for U.S. colleges and universities that demonstrates an outstanding commitment to diversity and inclusion, AACC was featured along with 83 other recipients in the November issue of the magazine.

"When inclusivity and diversity are part of a college's core values, everyone benefits, especially our students," said Dr. Dawn Lindsay, AACC's president. "We have made equity a priority at AACC. To earn this recognition for the second year in a row strengthens our belief that we continue to be on the right path."

AACC's Chief Diversity Officer James A. Felton III agrees, noting that the college has won more national awards on diversity since receiving the HEED award last year, and also has increased support services for underrepresented students.

"Since winning the 2015 HEED Award, we believe that we have made even more progress in achieving greater understanding and awareness of the importance of diversity, equity and inclusion across the institution," Felton said.

Other advances this past year include:

• Offering major trainings and workshops on diversity and inclusion (e.g., Search Committee trainings, Sexual Assault Awareness trainings).
• Implementing a pilot Faculty Diversity Fellows program.
• Launching an Intergroup Dialogue initiative.
• Including equity and inclusive excellence as central tenets of the new strategic plan.
• Participating in year one of Association of American Colleges & Universities project, Committing to Equity and Inclusive Excellence: Campus-Based Strategies for Student Success.

The magazine said it takes a holistic approach to reviewing all applicants. "Our standards are high, and we look for institutions where diversity and inclusion are woven into the work being accomplished every day across a campus," said Lenore Pearlstein, the magazine's publisher. "The HEED Award process consists of a comprehensive and rigorous application that includes questions relating to the recruitment and retention of students and employees – and best practices for both – continued leadership support for diversity, and other aspects of campus diversity and inclusion."
January 2016