Mentorship. Support. Growth.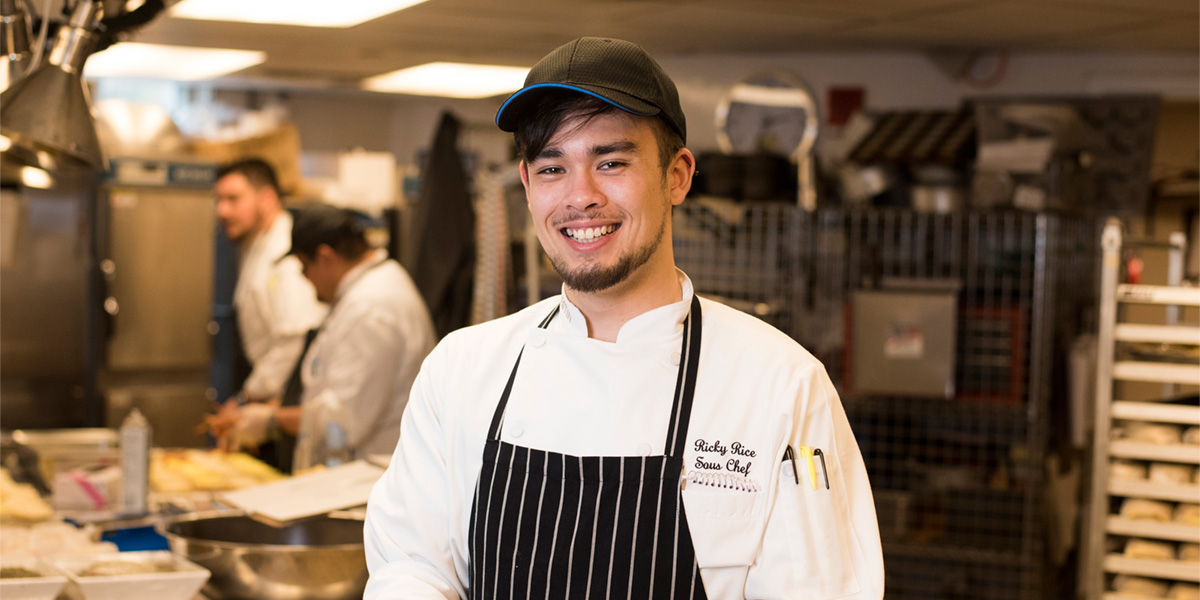 As a military latchkey kid experimenting in the kitchen, Ricky Rice loved every step of the process.
"I thought I'd be a food critic someday because I loved to eat so much, but I channeled that into cooking instead," he said.
Rice later studied culinary arts in Germany, but had to move back to the states before he could do an apprenticeship. Unsure of a next step, he heard about the AACC Hotel, Culinary Arts, and Tourism Institute. He signed up. "Everyone was saying AACC was well known and high quality," he said.
Now a sous chef at the Westin Annapolis and an AACC student, Rice hasn't regretted the choice. Even though he had worked at restaurants across Bavaria, "AACC definitely helped teach me the foundation to develop my skills even further and to self-teach," he said, noting that restaurant work provides experience and repetition, while school takes it a step further.

"Going to AACC at the same time [as working] helped me realized the why, the science and logic behind things… it puts you ahead of the others."
He's taken full advantage of the program, with a study abroad to Italy, a competition in Scotland and networking through the AACC HCAT community. As he was finishing up school, Rice started at the Westin, when head chef Kurt Peter, another AACC alumni, recruited him.
Rice said he's found that AACC students are consistently high-quality, an important part in maintaining a cohesive unit that works together well in the fast-paced and pressure-filled walls of a kitchen. "Probably the professionalism would be missing from the team if AACC wasn't involved," he said. "There's a discipline they teach that a lot of schools don't seem to have.... It kind of helps build that team because we're keeping them [here]."
He said this sense of camaraderie and companionship makes work fun, along with the different challenges of food costs, scheduling, prep work, banquets and his favorite— special events.

"[They're] what I love the most here," he said, saying testing recipes and seeing what fails or what needs to be tweaked is creative work. "That's when I'm really having fun the most," he said.
March 2017