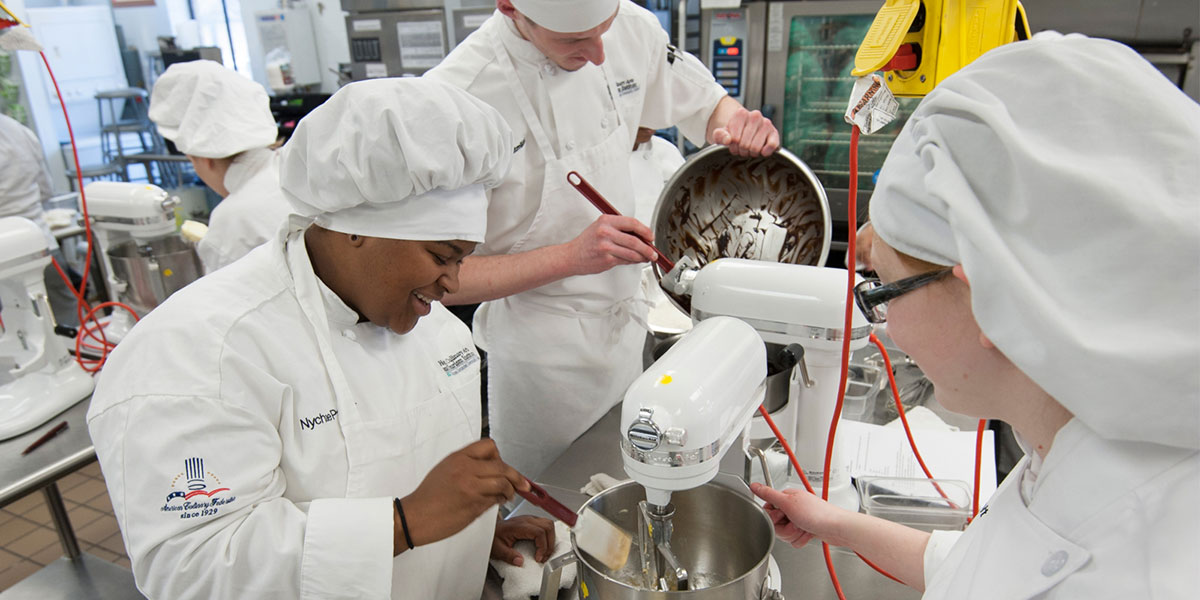 Follow your passion and get started in a career in culinary arts!
AACC's Professional Cooking Skills training is designed to quick-start your culinary skills.
---
What is the job outlook?
Demand for food service positions in hospitality industries such as hotel, catering, restaurants and/or other dining establishments, cruise ships, clubs, or airlines will continue to grow. The U.S. Bureau of Labor Statistics predicts employment of chefs and head cooks will grow 8.9 percent by 2024.
---
What is the training?
This training consists of five face-to-face, noncredit courses. Students attend class four days a week for 16 weeks. Topics include kitchen procedures, intermediate kitchen skills, cooking techniques, restaurant cooking, menu costing and design, baking techniques and more.
---
What courses will I take?
---
What credentials can I earn?
Upon successful completion of the program, students can earn an AACC continuing education certificate and are eligible for employment as a cook. To receive the certificate, submit a student application for a Continuing Education Certificate to the Continuing Professional Education office, use certificate code CE.PROF-COOK.
Additionally, students may achieve up to 10 credits, through credit by exam, toward a credit certificate or associate degree program in culinary or baking and pastry.
---
What is the cost?
This training costs $4,536 for Anne Arundel County residents, which includes tuition, fees, textbooks and knife kit.
---
What are the requirements?
Students must purchase two uniforms from the supplier, Mercer Culinary: HCAT Uniform
Students must be at least 16 years old to enroll.
---