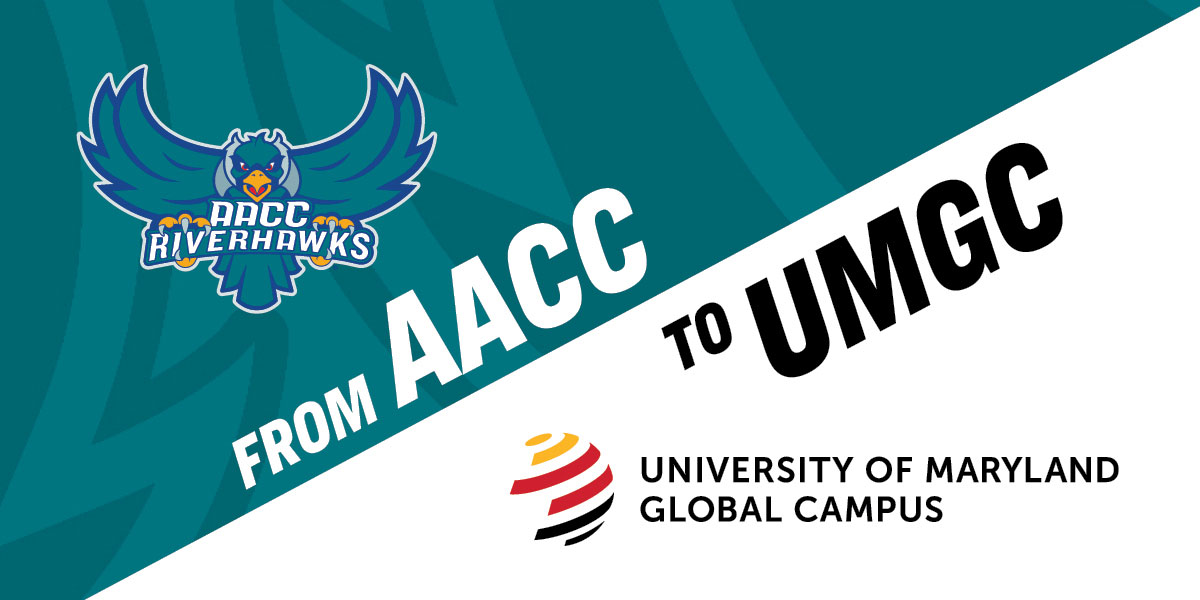 Want to finish your degree online? Plan your transfer from AACC to University of Maryland Global Campus like hundreds of students do each year!
Transfer credits to UMGC
University of Maryland Global Campus (UMGC) is the top transfer school for the majority of AACC graduates. If you've earned an associate degree from a Maryland community college, you are guaranteed admission to UMGC and are eligible for the Completion Scholarship. AACC works closely with UMGC to offer graduates a seamless, flexible and affordable transfer process. Here are a few of the advantages to starting at AACC:
Save close to $9,440 on tuition with two years at AACC followed by two years at UMGC. (See cost comparison)
AACC grads qualify for an exclusive community college scholarship enabling them to complete a bachelor's degree for $12,000 or less, well below typical in-state tuition costs.
100% online and hybrid courses are tailored to fit the needs of working adults.
Major in certain Business, Law and Criminal Justice, Nursing, Psychology or Technology programs and get priority admission and direct transfer into UMGC as a junior in that corresponding major. You can complete your AACC degree in only two years by taking two courses each term.
Up to 70 AACC credits can be transferred and used for your bachelor's degree, including fulfilling most general education requirements or prerequisites.
Plan your future
Ready to develop your transfer plan? If you are a new student, apply to AACC to get started. Current students should speak with an AACC transfer advisor.
Scholarships for UMGC Transfers
Completion Scholarship
UMGC offers eligible Maryland community college graduates the opportunity to earn a bachelor's degree at a significantly reduced cost with the Completion Scholarship.
AACC has more than 200 scholarships that require one simple application! Additionally, transfer students may be eligible to apply for one of the nine transfer-specific scholarships listed here. A Free Application for Federal Student Aid (FAFSA) is required for all scholarship applications awarded through a college.
---
Complete Your Degree in Two Years
Are you working while you're in school or busy with family responsibilities but still want to finish your degree in two years? AACC offers condensed eight-week course options which allow you to complete your degree in two years taking only two courses at a time. These programs also easily transfer to an online bachelor's degrees at University of Maryland Global Campus. 
Programs with the eight-week course sequence:
Business Administration Transfer (A.S.)
Business Management – Advertising and Marketing (A.A.S.)
Business Management – Business Communications (A.A.S.)
Business Management – Financial Accounting (A.A.S.)
Business Management – Health Care Professionals (A.A.S.)
Business Management – Human Resources (A.A.S.)
Business Management – Leadership (A.A.S.)
Business Management – Small Business Management (A.A.S.)
Business Management – Social Enterprise (A.A.S.)
Business Management – Supply Chain Management (A.A.S.)
Psychology – Arts and Science Transfer (A.A.)
Computer Science – Computer Science Transfer (A.S.)
Information Systems – Computer Science Transfer (A.S.)
Transfer Studies (A.A.) (Concentrations in Biology, Business, Computer Science and Psychology)
---
Transfer Agreements
These agreements assist AACC students transferring from AACC to continue their education. The list is organized by AACC major. The agreements include worksheets or pathways that specify which AACC courses you should take if you're planning to transfer to a specific institution and/or listed major.
University of Maryland Global Campus (formerly UMUC)
AACC DEGREE/MAJOR
UMGC DEGREE/MAJOR
COURSE MAP
8-Week Online
A.S. - Business Administration Transfer
B.S. - Business Administration
A.A. - Transfer Studies
B.S. - Business Administration
A.S. - Computer Science
B.S. - Computer Science
A.A. - Transfer Studies
B.S. - Computer Science
A.A. - Transfer Studies
B.S. - Health Services Management
A.S. - Information Systems
B.S. - Information Systems Management
A.A.S. - Business Management
B.S. - Management Studies
A.A. - Psychology
B.S. - Psychology
A.A. - Transfer Studies
B.S. - Psychology
Business
A.A.S. - Business Management, Business Communications
B.S. - Business Administration
A.A.S. - Small Business Management, Business Management
B.S. - Management Studies
A.A.S. - Financial Accounting
B.S. - Accounting
A.A.S. - Human Resources, Business Management
B.S. - Human Resources Management
A.S. - Business Administration
B.S. - Business Administration
A.S. - Business Administration
B.S. - Management Studies
Law and Criminal Justice
A.A.S. - Homeland Security Management
B.S. - Homeland Security
A.A.S. - Homeland Security Management
B.S. - Public Safety Administration
A.A.S. - Law Enforcement and Criminal Justice
B.S. - Criminal Justice
A.A.S. - Police Academy, Law Enforcement and Criminal Justice
B.S. - Criminal Justice
Health and Human Services
A.S. - Nursing
BSN - Nursing for Registered Nurses
Psychology
A.A. - Psychology
B.S. - Psychology
Technology
A.A.S. - Information Assurance and Cybersecurity, Digital Forensics
B.S. Computer Networks and Cybersecurity
A.A.S. - Information Assurance and Cybersecurity, Networking
B.S. Computer Networks and Cybersecurity
A.A.S. - Information Assurance and Cybersecurity, Security
B.S. Computer Networks and Cybersecurity
A.A.S. - Information Assurance and Cybersecurity, Security
B.S. - Cybersecurity Management and Policy
A.S. - Information Systems, Computer Science
B.S. - Computer Science
A.S. - Information Systems, Computer Science
B.S. - Information Systems Management
A.A.S.- Computer Information Systems, Information Systems Technology
B.S. - Computer Networks and Cybersecurity
A.S. - Computer Science
B.S. - Computer Science