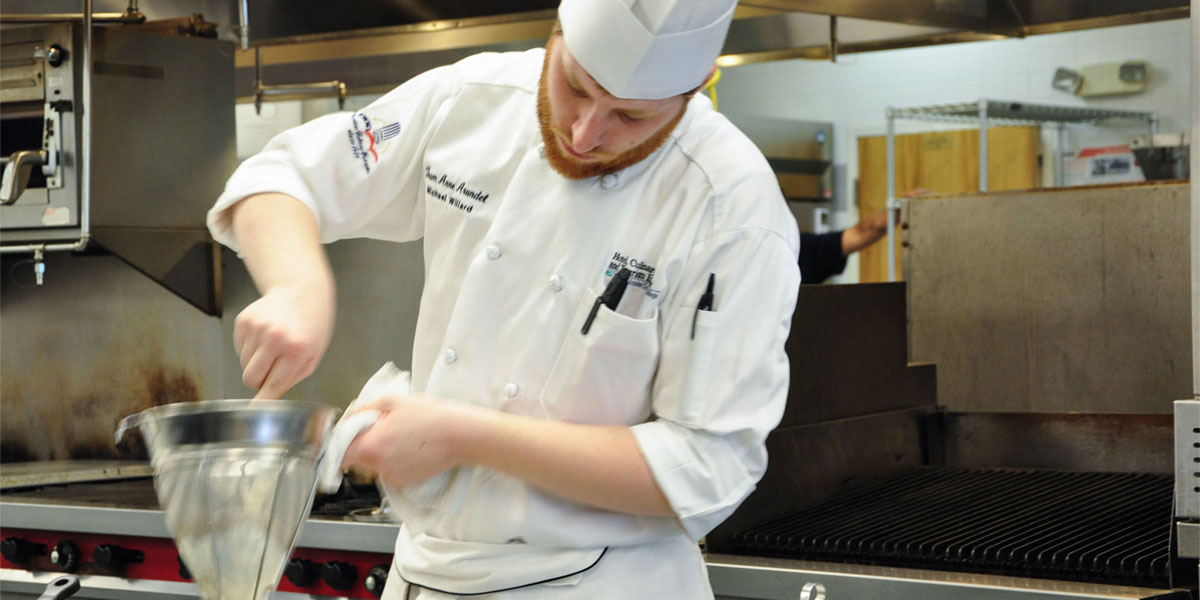 Sip, taste and savor authentic recipes with the help and guidance of experienced chefs at AACC's Hotel, Culinary Arts and Tourism (HCAT) Institute. Experience a "Top Chef" atmosphere in our two state-of-the-art kitchens located in Arnold and Glen Burnie, where we offer a variety of noncredit cooking classes for beginners and culinary experts alike. Classes are mostly held evenings and weekends and may be lecture, hands-on cooking or chef demonstrations.
---
Wine, Beer and Spirits
Novices and connoisseurs alike will enjoy our classes on spirits from around the world and from your own backyard. Increase your knowledge of wine and beer along with the production of both. Learn how to pair them with food and more. Classes feature not only lectures and discussions, but also tasting and evaluation.
Note: Must be 21 or older to enroll.

CAW-335 Introduction to Bourbon and Rye
CAW-318 Mixology:The Home Bartender
CAW-328 The Whiskies of Scotland
CLN-358 Wine 101: Practical Basics
---
The In-Home Classroom
In-Home Classroom courses are culinary demonstration classes taught by an HCAT chef in a video format. Students can watch and download the video. The video allows students to move at their own pace. Recipe packet and discussion are available with these online courses.
CAW-325 Baking Bread at Home
CAW-397 Beekeeping for Beginners
CAW-390 Chinese Takeout At Home
CAW-394 Gluten Free Baking At Home
CAW-338 Holiday Meal Step by Step
CAW-395 Indian Cuisine At Home
CAW-389 Intermediate Bread At Home
CAW-392 Korean Cooking At Home
CAW-337 Mastering Classic Custards at Home
CAW-349 Mastering Classic Pies at Home
CAW-336 Mastering Cooking Basics at Home
CAW-348 Mastering Hand Rolled Pasta at Home
CAW-326 Mastering Pan Sauces at Home
CAW-393 Pizza School At Home
CAW-388 Sushi at Home
CAW-391 Whole Grain Breads At Home
---
Cooking Demonstrations
Learn how to prepare delicious meals online from a talented chef!
COO-325 Luscious Low-Fat Quick Meals (Offered in partnership with ed2go)
---
Hands-on Cooking
We have a class for any dish you've ever wanted to learn to make, from soups, sushi, curries and truffles to specialty recipes for people with allergies, those who are vegan and anyone trying to lose weight.
August Classes
September Classes
October Classes
November Classes
December Classes
How to Enroll
The courses on this page are noncredit, meaning you won't earn college credit toward a degree. You don't need to apply. Just choose a program or course that interests you and check the Noncredit Schedule of Classes for a class that fits your needs.
Fall registration is now open!
Visit the noncredit registration page to learn more about enrolling in your course.
For help, email the Instructional Support Center or call 410-777-2325.