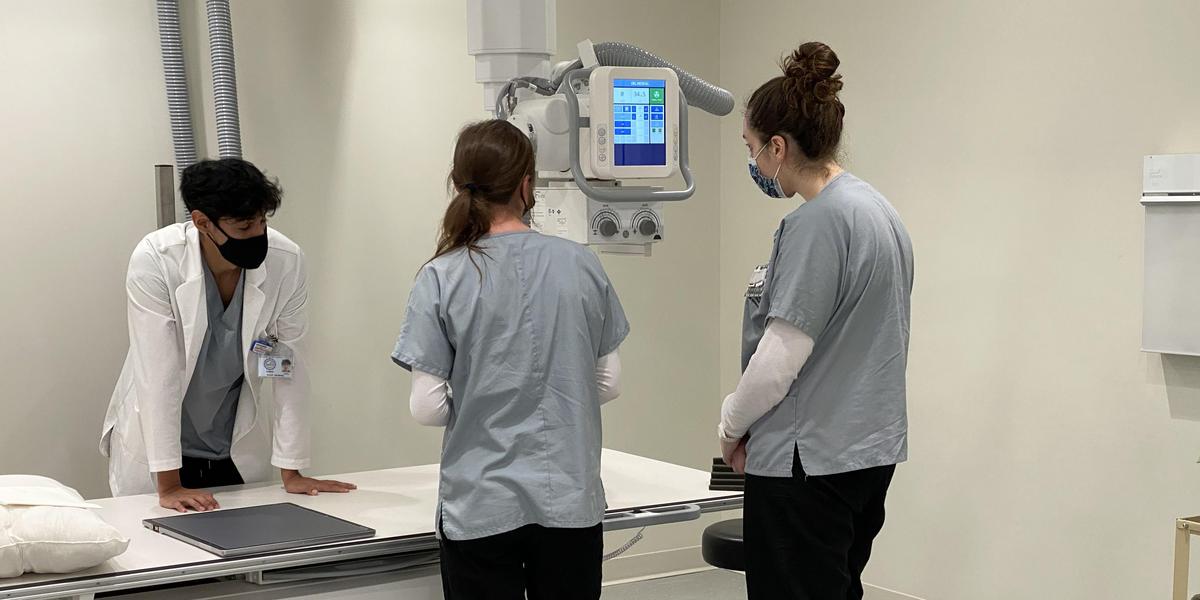 Are you looking for a fast-paced, versatile health care career? Do you have an aptitude for medicine and advanced technology? Our nationally accredited Radiologic Technology program will prepare you to work in a number of medical environments. You will be exposed to a wide range of technology in our state-of-the-art labs, and to diverse patient populations at 18 clinical sites. You will develop both computer radiography (CR) and digital radiography (DR) skills in clinical settings, as well as clinical competency skills in hospitals and imaging group practices that may specialize in orthopedics, fluoroscopy, trauma radiography and surgical procedures.
The Radiologic Technology program at AACC has a 100% first-time pass rate for the National American Registry of Radiologic Technologists (ARRT) exam, as well as a 100% rate of employment for graduates within six months of completing the program.
---
Career Degrees
AACC offers the following Associate of Applied Science (A.A.S.) degrees. The state of Maryland refers to the A.A.S. as a career degree, because it's intended to provide you with skills to enter the workforce. In some cases, AACC has entered into transfer agreements that allow these degrees to transfer to select colleges. A list of active agreements may be found on this website. You can also learn more about transferring from AACC to continue your education.
Radiologic Technology, A.A.S.
Anne Arundel Community College offers a two-year, seven-term Associate of Applied Science (A.A.S) degree in Radiologic Technology. Students also are eligible to sit for the National American Registry of Radiologic Technologists (ARRT) exam and to apply for Maryland Licensure. Graduates of the Radiology program also are eligible to take the noncredit, 40-hour didactic course in mammography.
Loading... in the AACC College Catalog.
Interested in Transfer?
If you're interested in earning a four-year degree and want to study this subject, Transfer Studies may be your solution. This distinctive degree is designed to let you choose an area of concentration (or major), while completing your state of Maryland general education requirements.
Transfer Studies, A.A.
The Transfer Studies, A.A. allows you to explore different subjects or concentrate on a specific course plan that will best meet your in-state (and even some out-of-state) transfer goals. If you hope to transfer to a specific program or school, one of our advisors can help structure your AACC studies specifically for that purpose. The result? You get a well-rounded associate degree preparing you for further studies and successful career.
Loading... in the AACC College Catalog.
---
What could you do with a Radiologic Technology degree?
Our Radiologic Technology program prepares you for entry-level employment in hospitals, medical offices, imaging centers, clinics, urgent care centers, mobile settings and newly evolving careers such as radiologic industrial hygiene. As of 2020, the median salary for full-time radiographers was $52,000.
With additional education and clinical experience, registered radiographers can specialize in computerized tomography (CT), magnetic resonance imaging (MRI), mammography, sonography and interventional radiography and quality management applications. Many of our students go on to earn bachelor's or master's degrees or certificates in other imaging modalities.
For outlook information about specific careers, visit the Bureau of Labor Statistics Occupational Outlook Handbook.
For information on what you can do with a Radiologic Technology degree, visit the American Society of Radiologic Technologists' website.
Program Effectiveness Data (per JRCERT)
---
Program and College Information
Radiologic Technology Mission Statement
The program supports the college mission by fostering excellence in learning, teaching and providing an environment conducive to student success. Program faculty are dedicated to preparing graduates who are technically competent, demonstrate a judicious use of ionizing radiation, exhibit optimal patient care and are prepared for their roles in diverse communities of interest.
Radiologic Technology Goals and Outcomes
Goal 1: Demonstrate clinical competence
Outcomes:
Apply proper positioning for all radiographic procedures performed.
Produce diagnostic images applying appropriate exposure parameters.
Follow appropriate radiation protective packages.
Goal 2: Demonstrate effective critical thinking skills
Outcomes:
Adapt for patients in a Trauma 1 clinical setting.
Adjust positioning skills and exposure parameters to meet patient needs and limitations.
Goal 3: Demonstrate effective communication skills
Outcomes:
Exhibit effective oral and written communication skills in the clinical setting.
Exhibit effective oral and written communication skills in the didactic setting.
Goal 4: Demonstrate professionalism
Outcomes:
Demonstrate a high level of professional conduct appropriate for an entry-level radiographer.
Demonstrate willingness to work for the common good.
Radiologic Technology Program Information
Radiologic Technology Professional Liability and Insurance
Liability (Malpractice) Insurance
A student is responsible for the student's actions in contact with patients and others during clinical assignments. Students are covered by professional liability insurance through Anne Arundel Community College for acts or omissions committed within the scope of the students' clinical assignment, including, but not limited to, negligence in patient care. Exceptions to insurance coverage may apply, such as an exception to coverage for intentional acts.
All incidents that occur during a clinical assignment that result in personal injury to patients, clinical affiliate personnel, or the student and/or property damage must be reported immediately to the clinical coordinator and program director as soon as practical. An incident report must be written to document what took place and a copy of the report must be submitted to the program director of Radiologic Technology. All incident reports are kept on file in the School of Health Sciences office and undergo review by the dean of Health Sciences. The dean must submit the incident report to the college's risk manager.
Health and Accident Insurance
In the case of accidents or illness which occurs during clinical hours, the following policies will apply. If a student becomes ill or injured while on duty, he/she should report to the clinical instructor or designate. If injury is clinically related, an incident report should be filed and a copy should be sent to the program director. The student will be financially responsible for his/her treatment. In any case, if the student does not have any insurance coverage, any financial responsibility for treatment will be the student's responsibility. It is advisable to contact your health care and automobile insurance agent to inquire about health and accident insurance and premiums if you are not covered by spouse or parents.