We are continuing to offer services remotely for our students, faculty and staff.
Visit our COVID-19 page for details and review our Health Sciences FAQ for additional information.
---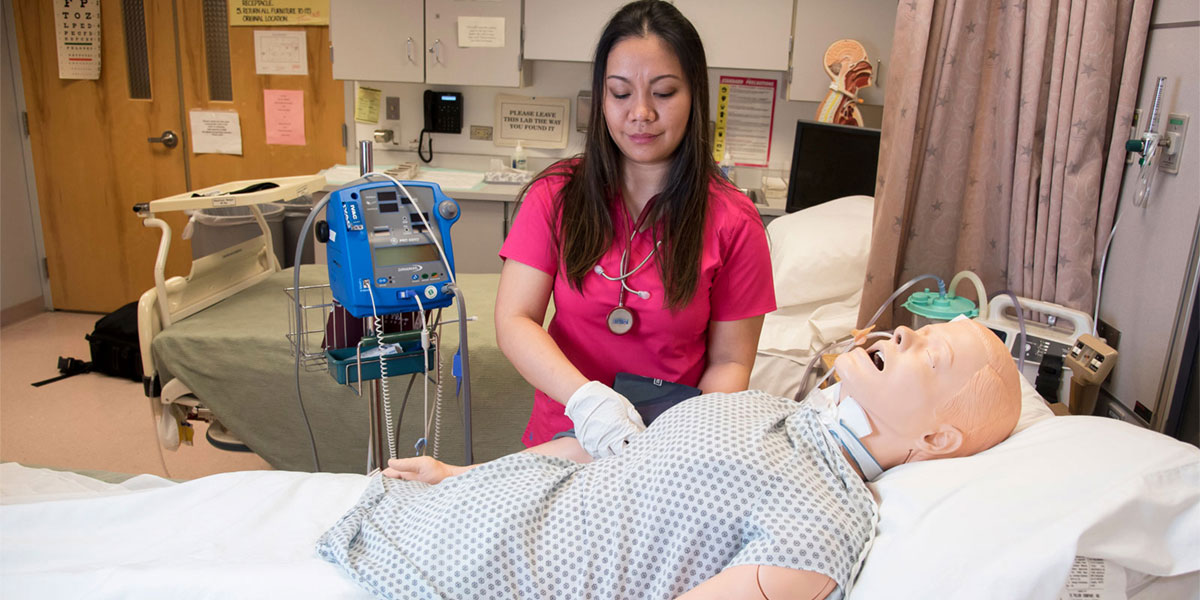 Welcome to Anne Arundel Community College's School of Health Sciences!
As a community leader, we believe the residents of Anne Arundel County and beyond deserve the best care from highly trained health professionals. That's why our goal each year is to help meet the continual need for competent and compassionate providers through high-quality, affordable programs taught by experienced professionals who are experts in their respective disciplines. Is this fast-growing field is right for you? AACC's School of Health Sciences is home to a wide range of health-related degrees and certificates that can prepare you for a career or transfer to a four-year college and beyond. Each of our health programs will help you develop skills needed for a high-demand job within our county and region. You'll benefit from hands-on learning using state-of-the-art equipment, such as the simulation lab, and through clinical rotations with our many partners throughout the county.
---
Departments
AACC offers degrees and training in the field of health. Many of the programs through the School of Health Sciences require prospective students to attend an information session. These free, 90-minute sessions are provided throughout the year. For more information about Health Sciences programs and admissions, contact a member of our health sciences admissions team or call 410-777-7310.
Related Continuing Education
AACC's School of Continuing Education and Workforce Development also offers a wide range of noncredit health training and professional development. Trainings include assisted living management and nursing, basic IV and venipuncture techniques and phlebotomy technician, CPR and first aid, delegating nurse and nurse refresher, human services, medical coding, medicine aide, physical therapy, physician assistant, sterile processing, and therapeutic massage.
---
Health Sciences FAQ
In response to COVID-19, we are continuing to offer services remotely for our students, faculty and staff. Below you will find some of our frequently asked questions. If you still don't have an answer to your question, contact the Health Sciences admissions office.
I need to speak with a Health Sciences academic advisor. How can I make an appointment since the campus is closed?
Health Sciences academic advisors are available to meet with you remotely through your college email and through virtual advising. No appointment is needed. Simply email your advisor directly using your AACC email and ask your advising questions. Your advisor will respond and will open a virtual advising session as needed.
If you do not have an AACC email, use your personal email. Your advisor will be able to address questions that do not involve protected information using your personal email account.
Assigned advisors by first initial of last name:
A, B, D, F and K
Sharon Barlow Hughley
sbarlowhughley@aacc.edu
E, M, N, T, U, V and Z
Laura Fitzpatrick
llfitzpatrick@aacc.edu
G, H, I and Q
Mary van Andel
mvanandel@aacc.edu
P, R and S
Laurie Hubbard
lahubbard@aacc.edu
C and L
Jill Nagiel
janagiel@aacc.edu
J, O, W, X and Y
Toyette Sullivan
tlsullivan2@aacc.edu
I was planning to attend an information session for a Health Sciences program. How can I still participate while the college is closed?
View the AACC Calendar to register for the next Health Sciences Virtual Information Session. Instructions about registration and login details are provided.
I need to take the Arithmetic Placement test and/or the TEAS test. What do I do?
All on-campus testing is currently suspended. The college is working toward providing available options to students. For testing requests, send an email to testing-arnold@aacc.edu. Keep checking with our testing office for any updates.
I need to submit an official transcript. How can I do this if the college is not open?
I need to submit a paper copy of my program application. How do I submit a paper application?
You may email your paper application as a PDF file to healthsciencesadmissions@aacc.edu. Once the application is received, you'll receive a reply email. If you do not receive a reply within two business days, please email us again.
Do not email your full date of birth or Social Security number. These are not requested on your application and we want to make sure that no protected information is sent via email. A copy of your driver's license or other government-issued photo ID is no longer required so you don't need to email a copy with your application.
Before emailing the address verification and supporting documentation that is required by your program of interest, white out financial, date of birth or other confidential information that may be on the documents.
In addition, paper applications may be mailed to:
Anne Arundel Community College
Attention: School of Health Sciences
101 College Parkway
Arnold, MD 21012
The spring 2021 Registered Nursing application was supposed to be available on May 1. Has that date changed?
The spring 2021 Registered Nursing application is now available online.
To access the online RN Program Application:
Login to AACC Credit Application.
Click "Create a New Application."
Select "Registered Nursing Program Application."
Complete and submit application.
Submit required supplemental items.
The end date for the biology prerequisite to the RN program is after the application due date. Can I still submit my spring 2021 RN application?
All students taking BIO-231 or BIO-233 during the summer 2020 term are eligible to apply for the spring 2021 Registered Nursing program. When completing the online application, enter your present grade. The application will show as incomplete until the final grade can be verified and uploaded to the application, no later than Aug. 15. You must email the Health Sciences admissions office at tdneall@aacc.edu if you are taking the Biology prerequisite this summer. You will be notified if additional information is needed.
My health form is due but I cannot get an appointment for a physical. Will I lose my seat?
We understand that physicians' offices are not making routine appointments right now. We will give you ample time to complete the necessary documents required for clinicals. Complete as much as you can, gather medical documents that you may have for previous vaccines and check your AACC email periodically for any updates.
What are the current available immunization and PPD services?
Tuberculosis Skin Testing (PPD)
AFC Urgent Care
**One-step PPD $25 total to place and read, two-step $50
3059 Solomons Island Road, Edgewater, MD 21037
310-956-3394
https://www.afcurgentcareedgewater.com/
Concentra Medical Center (two locations)
**One-step PPD $57 total to place and read, two-step $114
811 Cromwell Park Drive, Suite 104, Glen Burnie, MD 21061, 410-553-0110
7377 Washington Blvd., Suite 101, Jessup, MD 21075, 410-379-3051
Immunizations
Sam's Club
Sam's Club Pharmacy offers low-cost immunizations; you DO NOT need to be a Sam's Club member to use the pharmacy.
What are the CPR requirements?
CPR Courses are available for summer registration at AACC.
AACC's School of Continuing Education and Workforce Development is offering numerous CPR courses for our students starting June 6. Learn how to register for noncredit courses. Due to the many students who will need this course, there will be enough sections open to make sure our students are able to become CPR certified prior to clinicals.
Visit the Basic Life Support page for CPR courses as they become available.
I am supposed to start clinicals this summer/fall. Will my program be delayed?
For current cohorts of admitted students, refer to your program chair or director for updated information regarding program clinical start dates.
I have been expecting to hear from the Health Sciences admissions office regarding my application status. How will I receive this notification?
All correspondence will be done through your MyAACC email account. Be sure to check your email daily.
I have heard about a Pass/Fail grade option for the spring term. What does this mean for me?
When the faculty submit a traditional grade at the end of the spring 2020 term, you can request the traditional grade be changed to a pass/fail grade. The Committee on Academic Standards will authorize the change of a grade to pass/fail based on the traditional grade submitted by the instructor.
Although you may wish to consider a pass/fail option instead of a traditional letter grade for each class you complete, please think about how this may affect selection into Health Sciences programs. If your program of interest is a competitive selection and weight is given to course grades, then you may not want to choose the pass/fail option.
My program of interest is conducting a mandatory applicant meeting. Will that meeting be canceled or rescheduled?
Applicants and students will receive information via email about how the mandatory meeting will be conducted.