Learning Through Experience. Meeting Community Needs.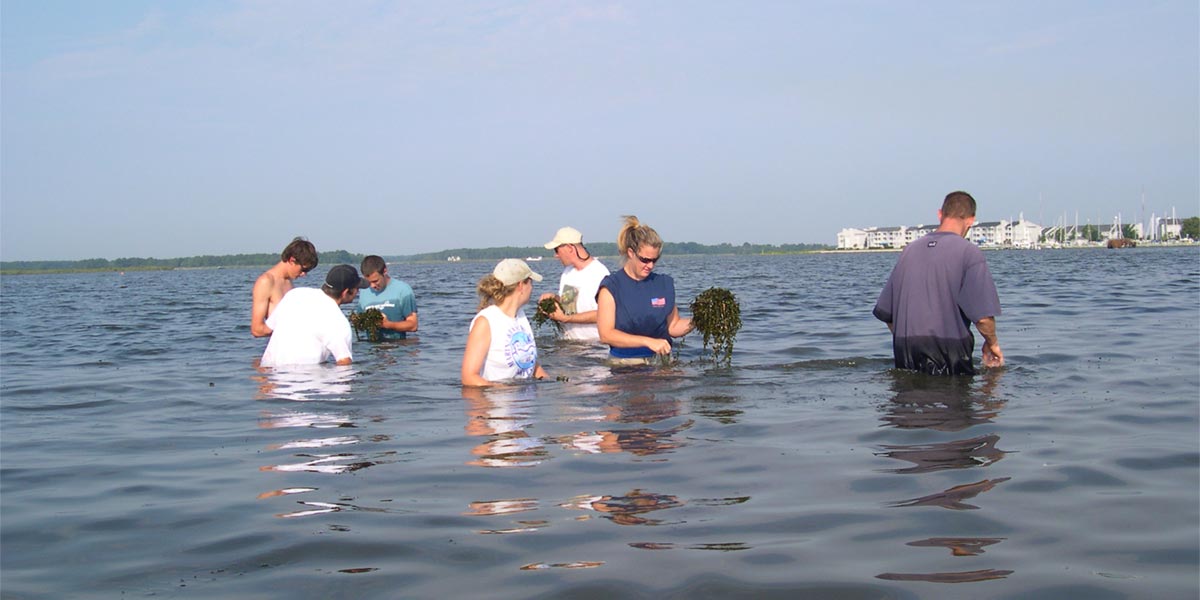 AACC encourages, builds, fosters and supports community engagement through service-learning and community service. As the community's college, giving back is a part of who we are.
We collaborate with community organizations to give career and community service opportunities that engage students in learning beyond the classroom, preparing them for their professional journey. We help students and the community become civically engaged, connecting with nonprofit organizations for volunteer activities that enhance classroom learning, meet community needs and positively influence community life.
Volunteer Opportunities
Serve your community and make a difference.
AACC helps thousands of students, faculty and staff connect to causes that matter to them while providing help to community organizations. There are opportunities for individuals, families, groups and clubs - many of which can be done from home. Volunteer to get experience, meet others and give back to your community.
You can find different volunteer opportunities below:
The AACC Volunteer Newsletter is delivered weekly to your inbox with local opportunities. Sign up to receive these emails.
Students can join the AACC Student Government Association or other AACC clubs for service opportunities. Check out the Nest to find different AACC organizations.
The Volunteer Voice on 1430 WNAV, hosted by AACC, airs at 9:10 a.m. Wednesdays (1430 AM, 99.9 FM). Listen to community nonprofits discuss their upcoming volunteer opportunities.
Follow and like AACC Volunteer on Facebook for lots of local volunteer activity.
Volunteer Match is a national site that allows for customized searching by ZIP code.
If you have court-ordered community service hours to complete, you may be able to find opportunities through Volunteer Match. Note: You must notify any organization you wish to volunteer for that you have court-ordered community service hours to complete and provide information on the nature of your offense. Failure to notify the organization may result in an inability to verify hours completed. Whenever you attend a project, we strongly recommend that you get a community organization official to verify the hours you have served at the end of each project day. It is often difficult to get verification of hours later. AACC does not provide hour verification for any project. Need help? Email volunteer@aacc.edu.
---
Service-Learning Courses
Service-learning options usually are available in sections of the courses below.
Art
ART-166 – Graphic Design
ART-264 – Fundamentals of Typography
ART-266 – Graphic Design 2
Biology
BIO-103 – General Botany
BIO-107 – Environmental Science
BIO-230 – Structure and Function of the Human Body
BIO-231 – Human Biology 1
BIO-232 – Human Biology 2
BIO-233 – Anatomy and Physiology 1
BIO-234 – Anatomy and Physiology 2
Business
BPA-103 – Introduction to Entrepreneurship
BPA-105 – Exploring the Future
BPA-111 – Business and Its Environment
BPA-120 – Small Business Management
BPA-125 – Marketing Principles
BPA-126 – Advertising and Sales Promotion
BPA-127 – E-marketing
BPA-162 – Business Communications
BPA-171 – Principles of Supervision
BPA-172 – Human Resource Management
BPA-231 – Social Entrepreneurship
Chemistry
CHE-112 - General Chemistry 2
CHE-214 - Organic Chemistry
Communications
COM-101 - Introduction to Mass Media
COM-111 - Fundamentals of Oral Communication
COM-200 - Intercultural Communication
Dance
DAN-221 - Intermediate Modern Dance 1
DAN-222 - Intermediate Modern Dance 2
DAN-240 - Dance Production
English
ENG-121 - Composition and Literature
Entrepreneurial Studies
ESI-103 - Entrepreneurial Thinking, Creating and Opportunity Recognition
ESI-104 - Sales and Marketing for Small Business
Future
FTR-105 – Exploring the Future
Gender Studies
GSS-113/HEA-113 – Women's Health
GSS/HUM-210 – Images of Women
Health
HEA-101 – Health, Fitness and Exercise Studies
HEA/GSS-113 – Women's Health
HEA-115 – Personal Safety
HEA-230 – Personal Trainer Fundamentals
Hotel/Restaurant Management
HRM-123 – Cooking Techniques 1
HRM-251 – Food and Beverage Operations Management
Human Services
HUS-114 – Counseling, Assessment and Case Management
Math
MAT-221 – Fundamental Concepts of Math
Nursing
NUR-220 – Nursing of Adult Clients in Health and Illness 2
NUR-221 – Nursing Care of Children and Families
Philosophy
PHL-111 – Introduction to Philosophy
PHL-146 – Contemporary Moral Problems
Physical Science
PHS-100 – Physical Science
Physical Therapist Assistant
PTA-101 – Introduction to Physical Therapist Assisting
Physician Assistant
PHA-114 – Pediatric Medicine 1
PHA-119 – Pediatric Medicine 2
Physics
PHY-111 – Fundamentals of Physics
Psychology
PSY-105 – Exploring the Future
PSY-111 – Introduction to Psychology
PSY-123 – Social Psychology
PSY-211 – Developmental Psychology
PSY-214 – Abnormal Psychology
Sociology
SOC-105 – Exploring the Future
SOC-111 – Introduction to Sociology
Spanish
SPA-221 – Intermediate Spanish Conversation