AACC President Appointed to FMA Committee
Aug. 21, 2018
Dr. Dawn Lindsay, Anne Arundel Community College's president, recently was appointed as an executive committee member with The Fort Meade Alliance (FMA).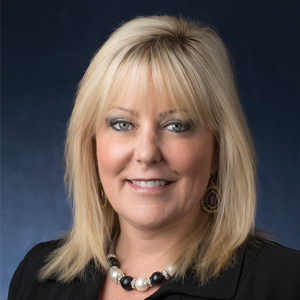 Lindsay officially joined in leading the organization's continuing effort to support Fort George G. Meade and the surrounding region at the FMA's Annual Meeting and Cocktail Reception on June 14. She previously served on the organization's board of directors.
"I'm honored to join such an important group doing such important work for the Fort Meade region and residents" Lindsay said. "The future of the region's economic growth is exciting, and I'm happy to be part of the mission of generating real impact through education and workforce development initiatives, transportation solutions, business connections and DoD community support."
Also elected to the executive committee was Anne Arundel Economic Development Corp.'s Julie Mussog. They join executive committee members Hubert Braithwaite III of Energy Network, Penny Cantwell of Howard Bank and Deon Viergutz of Lockheed Martin.
"The FMA is in good hands with the addition of the new and returning executive committee members and board of directors," said FMA President Steve Tiller of Whiteford, Taylor & Preston LLC. "I am honored to have served as FMA president and am confident that (incoming president) Doreen and the team of leaders behind her will continue to have an incredible impact on the Fort Meade region.
The Fort Meade Alliance board of directors consists of 23 members representing a diverse group of industries in the Fort Meade region.