Becoming a Licensed Drone Pilot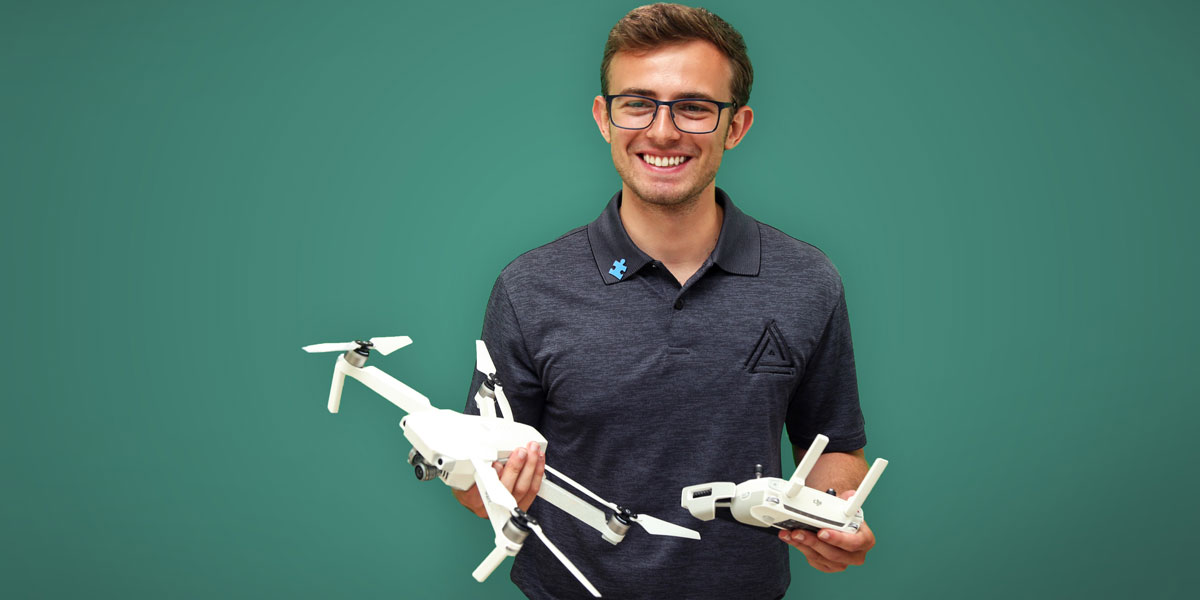 Since starting his business three years ago while studying business at AACC, Nick Kiraly, owner and operator of Annapolis Ascent says he's witnessing a major technological shift.
"It's really an amazing time in the world right now with the rise of drones," explained Kiraly. "I can't help but feel like we are writing history."
Kiraly is passionate about drones which is why it only made sense to adopt the technology in his business. He is one of many entrepreneurs, scientists, engineers and others leading the charge in disrupting industries by introducing new ways to incorporate these remote unmanned flyers into small business, government and everyday life.
"It reminds me of the stories I use to read about in the early days of computers and the pioneers that pushed them forward," he added.
His company, Annapolis Ascent, specializes in using unmanned aircraft systems (UAS), more commonly referred to as drones, to provide aerial views of homes for real estate agents and their clients. Recently, Kiraly and his partners, Hunter Davis and Nathaniel Disney, pitched their business model in AACC's Business Pitch Competition and won $5,000. Now that Kiraly is a licensed UAS pilot, he says he has even more ideas on the horizon.
"I took the UAS ground school to learn how to professionally operate drones in our national airspace," he said. "After receiving my commercial drone license, I took off and began using this powerful new tool for data-driven problem-solving centered on community efforts to monitor environmental change over time."
"Unmanned aircraft systems are quickly becoming tools used in many different business areas, including architecture, geography, environmental science, law enforcement, Homeland Security, athletics and media production," described UAS Instructor Tim Tumelty.
Tumelty predicts as more people discover ways to adopt the technology, the use of drones will revolutionize industries while playing a crucial role in shaping future careers for students.
"We are interested in working with professors and students to explore how we can use unmanned systems in other courses on campus to collect data to enhance learning. The first step is to have people become certified pilots to use these tools in their future classes and professions," said Tumelty.
Basic ground school training and flight school training are both offered at Anne Arundel Community College to help recreational and commercial flyers understand the rules of the airspace. There are several safety guidelines to consider such as making sure you're keeping out of restricted areas, flying in low altitudes, monitoring weather forecasts and avoiding crowds. Even recreational flyers are encouraged to register their drone with the Federal Aviation Administration (FAA).
"My advice to anyone remotely interested in drones or technology is that AACC is the place to be. There are so many amazing projects that you can learn from, like controlling a drone with your brain!" Kiraly shared.
UAS-100 Pilot Ground School is a one-credit course that meets for five weeks. After the class, students are prepared to take the FAA Remote Pilot Certificate Exam. Then once they pass the FAA exam on their own, students are eligible to continue on to AACC's flight school where they will receive hands-on training and the ability to check out equipment with the class.
To learn more about operating unmanned aerial systems (UAS), visit the following resources: