AACC/AACPS Science Day 2016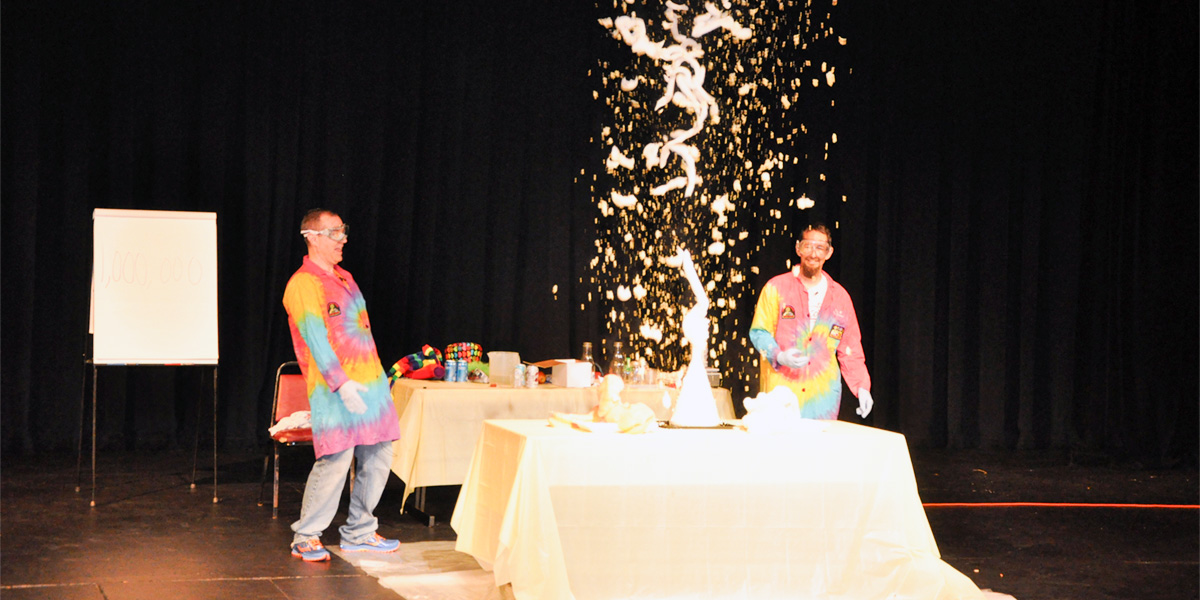 The aluminum soda can wasn't steaming. It should have been steaming. But Jason Barbour and Greg Schrader forged ahead with the experiment… which failed.
The Anne Arundel Community College science professors took it in stride. "Sometimes things don't work out like you expect them to," Barbour told a crowd of about 200 fourth graders in Kauffman Auditorium on Wednesday morning. "Now I've learned when I don't see steam, I should wait."
Life lessons are mixed in with science for AACC Science Day, where "Dr. B" and "Dr. S" have a penchant for a goofy hats, tie-dye lab coats, and clown-like tendencies. But, beyond the balloons, it's a serious role to them. "Everyone's a scientist; everyone needs to know science and embrace it," Barbour said. "It's fun and exciting—we want everyone have the confidence to do it."
The duo have been bringing science night to local elementary school children for years, but wanted to reach out to others whose parents might not be able to bring them in the evening. "We really wanted to give other kids a chance to check it out," Barbour said.
The event took around a year of organizing and is logistically "very challenging with a lot of moving pieces," said Kathleen Beauman, executive director of AACC's Office of Instructional Partnerships, who worked with the county to create the field trip. "All the requirements and schedules require a lot of cooperation and teamwork to make something like this go forward."
To Barbour, the driving force behind the event, it's a critical time and "powerful age" to be doing that work.
"The county's applications for STEM magnet schools starts in the fall for these kids, and we want all kids to have equal access and interest," he said. "In middle school is when they start to make their path."
Middle school, and career paths, were far from the minds of elementary students on Wednesday as surface tension, air pressure, and Bernoulli's principle were explained through vacuums, cups of water dangled precariously above heads, one unfortunate egg, toilet paper and a daring nail bed experiment.
The students from Annapolis, Germantown and Georgetown East elementary schools watched the presentation, often gasping or cheering, then engaged with AACC students and faculty, visiting stations based on biology, engineering, earth space science and physical science.
Brad Ogle, a teacher with Germantown Elementary, said the chance to touch and interact with the science show and stations after was a fun change of pace. "Just the chance for them to explore and investigate and get their minds rolling is great," he said. "The hands on component, they're kind of shocked by that. Usually on field trips they sit back and listen."
The event complimented his own classes on science. "It certainly gives us ideas, too," he said, standing near a table where a small group of his students learned about force.
That's by design, said Barbour. "We tried to tie all of this to the national science standards; we wanted to have something that builds on what they're already doing, but maybe helps them see it differently."
Germantown fourth grader Irene Zheng, 10-years-old, said her favorite part was "elephant toothpaste," where Dr. B and Dr. S explained a catalyst, then used one, causing foam to shoot initially 20 feet into the air.
A close second? "The crayfish," she said of a biology station, where AACC students helped her and her peers interact with a live crayfish and learn their parts. "They were so cute."
August 2016