Writing His Own Story (and Code)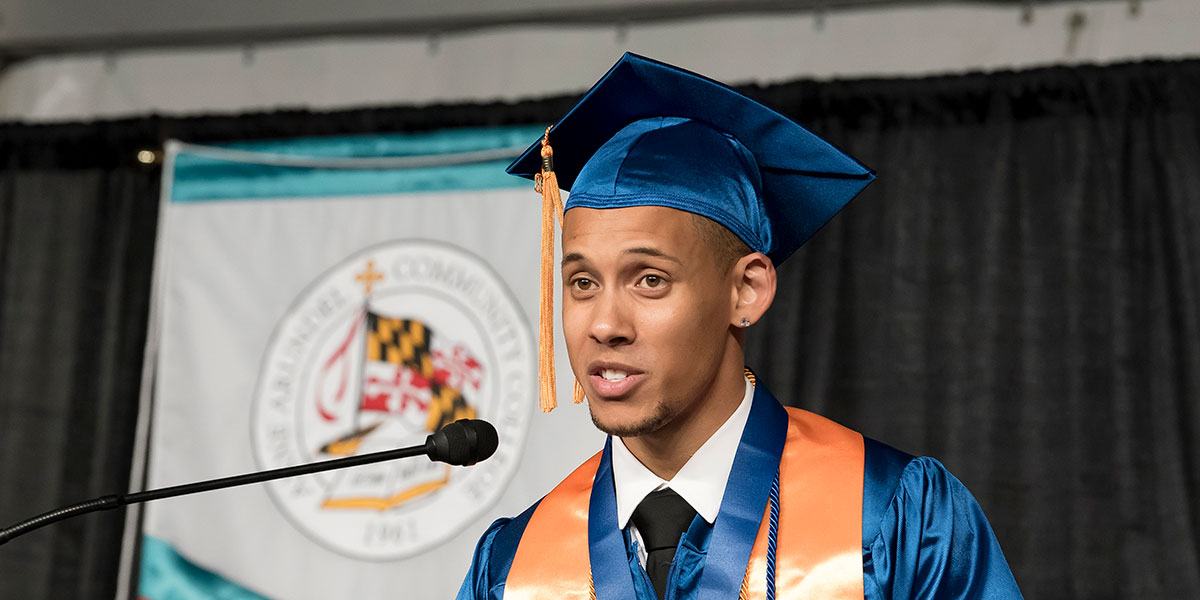 You could say Stephen Sala had good reason to believe the Coast Guard would be his career. "My father, my grandfather and my grandfather's father were all in the Coast Guard," he said. "It was always my goal to do the same."
Sala said that he was a low performer in high school, scraping by with a barely 2.0 GPA and no extracurricular activities. "I'll just go into the military; that's when I'll get my act together," the 25-year-old Odenton resident thought.
He never got the chance. Despite high scores on military standardized tests, Sala was denied entry. Discouraged, Sala resolved to not squander any more time.
"I said, 'This isn't going to be my story. This isn't going to be how things end,' " he said. "I wanted to be as successful as I could be. … I didn't know what that meant yet, but I was going to figure it out." He says today – as an accomplished IT professional and valedictorian on a full ride at a four year school – it's easy to say that moment had clear vision. Instead, he feels lucky things went that way. "There were a lot of other things on the table much easier than that," he said. "It felt good to make that decision, but I wasn't like 'This is the answer to all my problems. … It was just I don't know what to do.'"
What he did was get a job at a grocery store. At his local Weis, Sala started as a cashier with a renewed focus. "I went in with the mentality 'I'm done with school, this is what I do now. Regardless of what they wanted me to do, I'm going to take every opportunity and make the best of it.''"
Over two years, Sala excelled, from cashier to front end monitor and customer service. He became full time in shipping and receiving, and then accounting. Eventually, he became a manager. At 23, he felt he had hit the ceiling in retail management and went in search of a higher one. He found it in information technology (IT).
Sala said AACC was the practical choice to learn the skills that would open doors while he could keep working full time. "They had a lot of online classes; they had a lot of variety." He went in with high academic goals aimed to address concerns of future job interviewers. "When they ask what I've done before, I would only be able to talk about my experience in retail management. I decided to maintain a 4.0 GPA to compensate for the fact that I was lacking in hands on experience. At least I would be able to prove that I had a strong ability to learn."
Acing six classes a year and working full time, first in groceries but also in a local IT firm as a Network Operations Center Technician, a professor encouraged Sala to apply for the Scholarship for Service Program with CyberCorps. He did, and won. Sala will attend George Washington University this fall, working toward his bachelor's in computer science. As part of the scholarship, Sala will also have unique opportunities to intern with the federal government in a cyber security capacity.
"I would have never thought that the decision I made years ago would turn into this. You never know what opportunities are going to come your way. The only thing you can do is to prepare for whatever's coming" he said. "Once it's there you can't say, oh, that looks awesome, I'm going to get straight A's now. You need to be ready"
Though unsure about the specifics of his next milestone, Sala wants it to be something challenging and meaningful. "'I know I want to do something that makes me feel fulfilled," he said, noting all the things he would have missed in the past three years if he hadn't been open. "I would have missed out on so many great things, so I'm totally open. … I think when I see it I'll know it."
May 2017