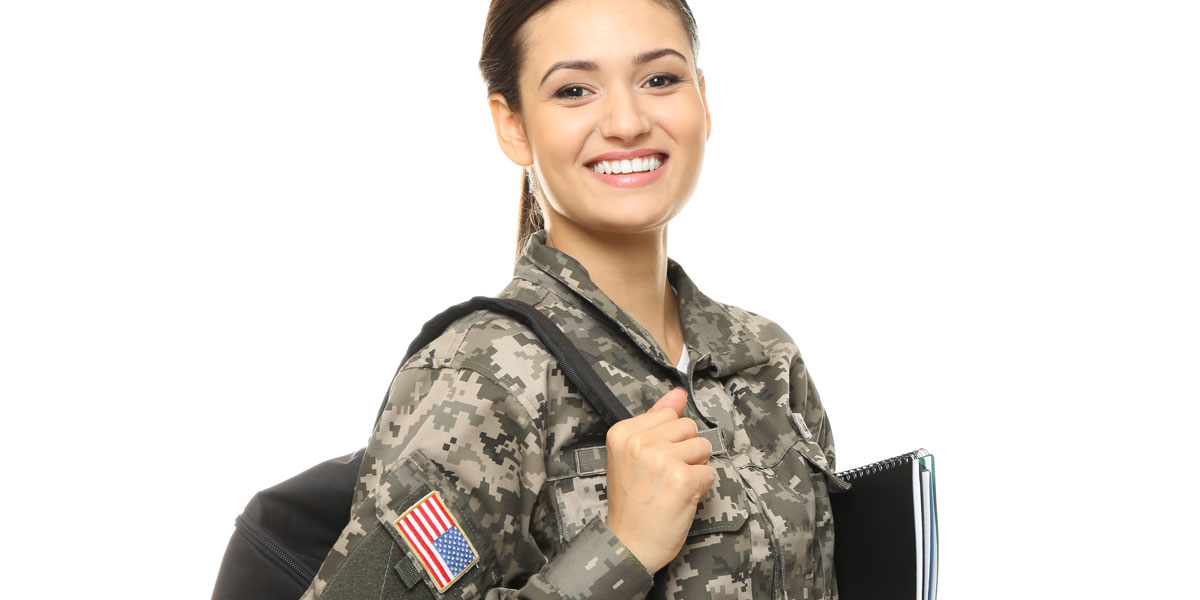 AACC is committed to giving back to those who serve our country and the family members who support them. Our financial aid staff are eager to assist with reviewing your VA Education Benefits, explaining entitlements and guiding you through the enrollment verification process.
The first step is to visit or contact the Military/Veteran Resource Center (MVRC) on our Arnold campus. The MVRC staff can help with admission to the college, registering for classes, and utilizing your VA educational benefits.
The financial aid office processes enrollment verifications for the following:
Chapter 30 - Montgomery GI Bill® - Active Duty
Chapter 31- Veteran Readiness and Employment Benefits
Chapter 33 - Post 9/11 GI Bill®
Chapter 35 - Dependent/Survivor
Chapter 1606 - Selective Reserve
Chapter 1607 - Reserve Educational Assistance Program (REAP)
The cashier's office processes enrollment verifications for the following:
Military Tuition Assistance
Military Tuition Assistance (TA) is a benefit paid to eligible members of the Air Force, Army, Coast Guard, Marine Corps and Navy. TA funds are a source of financial aid for active duty military. Each service has its own criteria for eligibility, obligated service, application process and restrictions. Check with your respective Service/Branch Education Office, education specialist or military counselor for eligibility and enrollment requirements to ensure you make an informed decision. Withdrawing from a course may affect your tuition assistance and have financial ramifications. Therefore, always consult with your respective Service/Branch Education Office prior to making changes to your enrollment.
Maryland National Guard Partial Tuition Waiver
Students who are members of the Maryland National Guard are eligible for a waiver of 50% of their tuition for credit courses at Anne Arundel Community College. To qualify for this waiver, members of the Maryland National Guard must submit their certification form signed by their unit commander to the cashier's office each term. The remaining tuition and fees must be paid on or before the due date. Direct questions to the cashier's office at cashiersoffice@aacc.edu.
My Career Advancement Account (MyCAA)
The My Career Advancement Account Scholarship is a workforce development program that provides up to $4,000 in financial assistance to eligible military spouses for the pursuit or maintenance (including continuing education courses) of a license, certification or associate degree necessary to gain employment in an occupation or career field.
This benefit is processed through the Cashier's office. Please contact cashiers@aacc.edu for further information.
Log into MyCAA.
For questions concerning tuition assistance, National Guard and MyCAA, contact the cashier's office at 410-777-2236.
---
Instructions for Accessing Your Education Benefits for Credit Students
Register early! AACC processing time may take up to four weeks during peak registration periods. VA processing time is at least 30 days.
You must renew your benefits every term by completing and submitting the AACC Veterans Enrollment Verification Form.
For detailed information on all available VA benefit programs and links to all VA forms, visit the VA Education Benefits website.
New Students (Never used VA benefits)
Transfer Students (Used VA benefits at another institution)
Returning Students (Used VA benefits at AACC last term)
Visiting Students (Using VA benefits at two institutions)
Students Using Veteran Readiness and Employment Benefits (Chapter 31)
All AACC associate degrees and most certificate programs are approved for VA education benefits. Email vabenefits@aacc.edu if you are interested in seeking a letter of recognition.
---
Information for VA Continuing Education Students
Currently, there are no non-credit Continuing Education courses or programs eligible for VA education benefits at AACC.
---
Additional Information for Veterans
AACC VA Student Responsibilities
As a student using your VA Educational Benefits at AACC, you must:
You must submit a copy of your DD 214 and all official transcripts from previous colleges to Records and Registration by the end of your first term.
You are required to pursue a degree/certificate program available at AACC approved for VA educational benefits.
You are required to run a degree audit each term to ensure you are enrolling in courses required for your degree. The VA will not pay for courses you don't need to complete your program of study.
You must submit the VA Enrollment Verification Form and ALL other required forms at the time of registration for each term you are requesting the use of your benefits.
You must attend all courses you have enrolled in. Failure due to lack of attendance must be reported to the VA and will have an impact on future benefits.
Payment of benefits will not be allowed for repeating a course for which transfer or a passing grade has been granted.
You are required to make satisfactory academic progress toward the completion of a degree or certificate program and comply with the academic standards of AACC.
You are required to report program/objective changes with the VA as well as AACC's records office.
You are required to report schedule changes including drops, withdrawals and changes to audits to the office immediately.
You are required to verify your enrollment with VA on the last calendar day of the month if you are receiving benefits, unless you are Chapter 31 or Chapter 35.
You are required to check your MyAACC email regularly to monitor the processing of your benefits and to respond to any processing requests by our office. Also, the VA will email you directly as your benefits are processed by AACC.
You are responsible for all charges, including AACC Bookstore purchases, on your student account.
VA Comparison Charts and Rates
To correctly determine the rate of your VA educational benefit, use the start date of your class on this VA rate table:
Veterans Automated Verification of Enrollment
Post 9/11 (Chapter 33) beneficiary should opt in to text verification. Verification must be done at the end of every month.
Also, you can verify enrollment by calling the Educational Call Center (ECC), or you may contact them to opt-in to text message verification. To contact the ECC, call 1-888-GIBILL-1 (1-888-422-4511 domestically or 001-918-781-5678 overseas) Monday to Friday, 8 a.m. to 7 p.m. EST. TTY Federal Relay: 711.
Veterans receiving Chapter 30, 1606 and MGIB benefits should use WAVE to submit monthly verifications.
VA Overpayments and Debts
If you decrease your training time (i.e. drop classes, leave school, etc.) and we have already processed a payment for tuition and fees, an overpayment will occur.
Learn more about what causes debt with VA education programs and the steps VA takes to collect the debt under any GI Bill education programs on the VA website.
VA Forms
Submitting VA Forms to AACC
If you need to submit documents to our office, you may do so through U.S. mail, fax, email or by visiting the financial aid office.
Make sure all documents are signed and labeled with your AACC student ID number and that they are for the financial aid office.
When emailing, you must use your MyAACC email account. Documents from private email accounts will not be accepted by the financial aid office. Do not email personal identification information such as your Social Security Number or date of birth. To protect your privacy, you should cross off this information with a black marker before emailing your forms or tax information.
You can download the free Adobe Acrobat Reader App to your computer or phone to complete and sign the required forms. Save them as PDFs on your device and send as attachments to our office using your MyAACC email. To create PDFs of documents, you can scan the document using your smart device.
Android Scanning Method
Google Drive has an option for scanning documents via your smartphone's camera and then saving them as PDF files within your cloud storage. You can find it by opening the Google Drive app, tapping the blue "+" icon in the bottom-right corner and then selecting "Scan."
Apple Scanning Method
If you have an iPhone or iPad, you actually have a scanner. You can use the Notes app. Open a new note, press the camera button and the option to scan the document will pop up. Once the document is scanned, you can email it.
Using Your VA Book Stipend
The college offers an AACC bookstore line of credit up to $500 per term to those using their VA benefits at AACC. The amount spent will be added to your bill for the term. It is your responsibility to pay the account in full by the due date of the last payment plan installment.
Other Assistance for Military Students
Military Transcript Requests
GI Bill® is a registered trademark of the U.S. Department of Veterans Affairs (VA). More information about education benefits offered by VA is available at the official U.S. government website.