Bridging Worlds: The Art of Belonging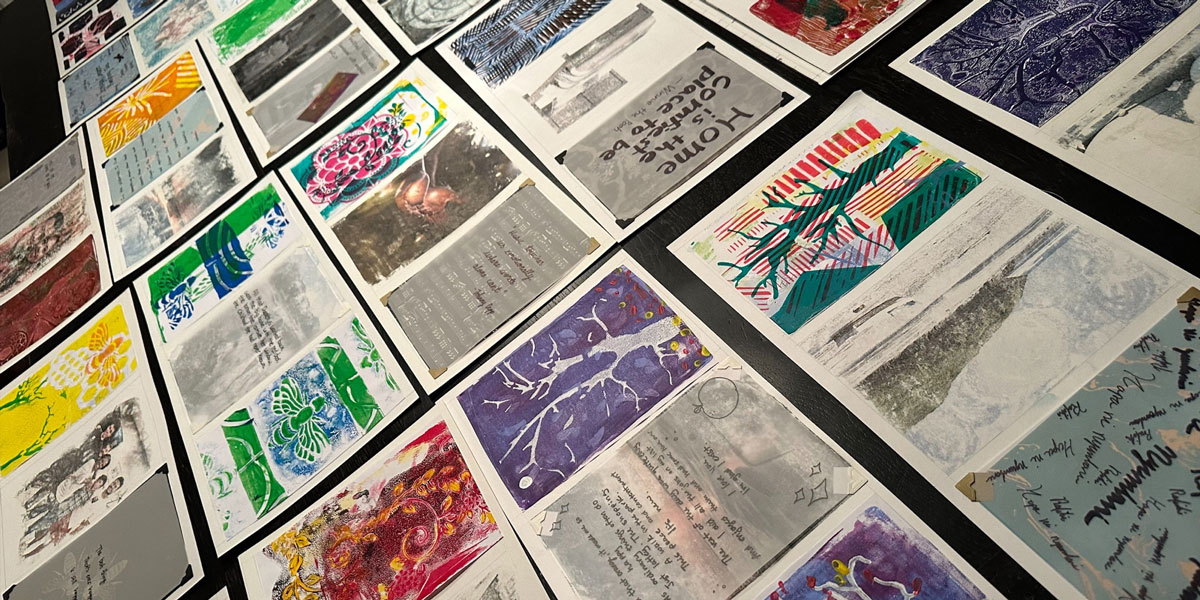 Inspired by a shared love of the arts and the knowledge that using a variety of art forms increases learning, assistant professor of anthropology Amy Carattini and professor of English Suzanne Spoor collaborated with Visual Arts program navigator Laura Pasquini to create an arts integration experience for their anthropology and composition students.
Arts integration is the practice of combining arts education with other academic subjects to encourage students to explore and understand complex concepts that might be challenging through more traditional teaching methods alone. The goal is to foster critical thinking skills by requiring students to analyze and interpret information in unique ways and by representing diverse perspectives in art form.
Carattini and Spoor wanted their students to do a joint project on the theme of "home" because they had originally been scheduled to run Introduction to Cultural Anthropology (ANT-121) and Academic Writing and Research 1 (ENG-101) as a thematic learning community called "There's No Place Like Home." Even though the classes were "de-coupled," the two professors were both keeping the theme of home and belonging that they had developed together, and they still wanted their students to have the kind of deep learning experience that happens when they join with other students and professors. In addition, their colleague in sculpture, Wilfredo Valladares Lara was slated to curate an art show at Maryland Hall for the Creative Arts to open in September called "Finding Home." Valladares Lara's exhibit could become another opportunity for students to broaden their thinking about the theme.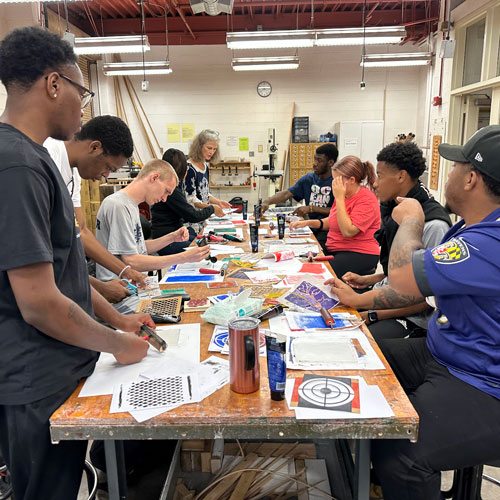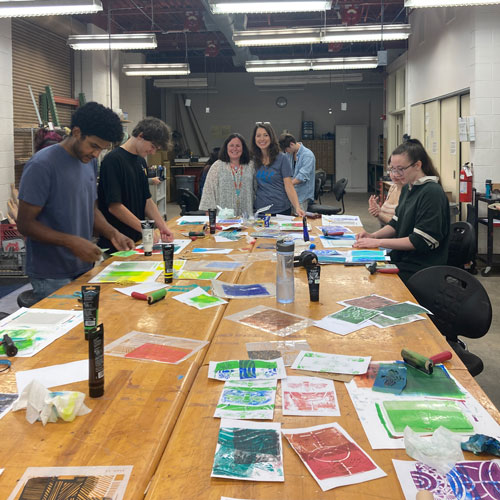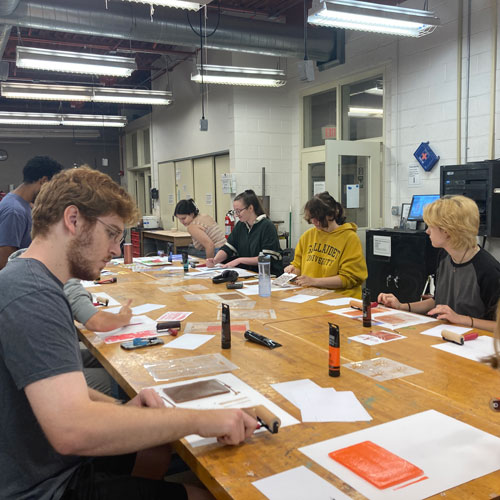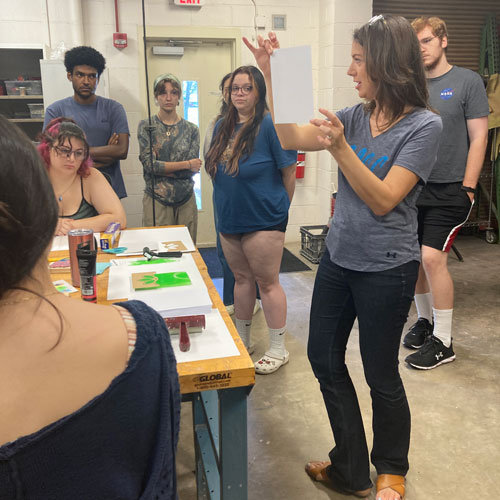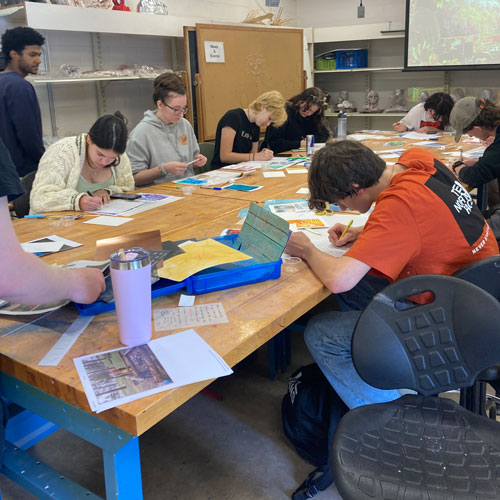 Over the summer, Carattini and Spoor attended the opening of the exhibit "Sharing Honors and Burdens" at Renwick Invitational 2023 and were inspired by indigenous artist Joe Feddersen who is a printmaker, glass artist and basket weaver. Through these mediums, he uses signs and symbols to reflect on contemporary and native connections to the environment. Getting to meet the artist and hear his perspective on belonging to the land awakened the possibility that students might go deeper with their own definitions and understandings of home and belonging if they too started with signs, symbols and images as a way to evoke sensory impressions and recount specific moments in time.
This is when Carattini connected with Pasquini to ask for her help. Pasquini suggested some creative play time in the print studio where she introduced Carattini to monoprinting with gelli plates and photo transfers. After a few sessions together working with these artistic mediums and creating mock-ups, Pasquini proposed to have students create a triptych, a 2-dimensional work of three panels, each expressing an aspect of what home is to the artist (through symbols, images and words). Carattini and Spoor agreed that this would be an ideal way for students to explore the concepts of home and belonging in a personal way while sharing their stories informally with each other. Supported with supply funding from the dean of Liberal Arts, Alicia Morse, two workshops were planned.
By all accounts, the project workshops were a success. Valladeres offered the sculpture studio as a space for the workshops. Carattini and Spoor prepped students for the experience through ethnographic writings, literary readings and discussions on home and belonging. Pasquini did everything else. She planned, organized, set up a location to upload digital files, provided materials for and taught the workshops entirely. During the first workshop, Pasquini walked the students through a slow looking exercise with Feddersen's work: "Convocation over Power Lines." Through this monotype print that depicts glyph-like birds with geometric patterned power lines, Pasquini guided students to explore what meanings different patterns and symbols have in our everyday lives and which have been lost through disuse. Once she showed students gelli printing and photo transfer techniques, they were off and creating triptychs. In one panel, students made a gelli print of a symbol of home; in the second panel, they transferred a photo representing the theme; and in the third, they produced writing over a pattern or image (on top of their ghost prints or transferred photos, using transparent velum). The results are stunning.
Over the next week, students reflected on how engaging with the materials and the creative process itself has shaped their ideas about home and belonging. In anthropology, they will use this work to understand their own starting points with the topic before going to interview others and elicit their understandings. In the English class, they will continue to explore the theme through literary texts. Many students will also go on the field trip to Maryland Hall to experience Valladares Lara's Finding Home exhibit, where they will encounter sculptures, paintings, installation pieces, woven works, videos and prints by seven different artists who have approached the theme through their own life experiences and particular skills.
---
Student Testimonials
Alvin (ENG-101)
The making of the triptych was fun and surreal because we learned a new way of expressing ourselves with photo transfer and Gelli Printing (which is a form of arts to make prints called monoprinting). Even though I spoke and wrote about Belonging, I made my triptych about Family because of everything my family has done for me. They make sure I have everything I need and encourage and push me to be myself and better. I wanted to share my traditions with others to see and enjoy which was us in the family portrait wearing our traditional clothing.
ROSE (ANT-121)
The symbols I chose when I thought of home and belonging were roses, trees and a pattern of wood. My mom used to tell me the story of why she chose to name me Rosemarie and her love of the flower. We have been growing roses in our yard for as long as I can remember and each time, I think of home I think of the pink roses growing in the summer and my mom getting me roses after each of my dance performances. I chose the pattern of wood because it makes me think of the old wood table, we ate dinner on every night, the huge tree in our front yard I used to climb with my brothers every day and the smell of wood that resonates with home. My dad is an arborist and growing up we were taken on hikes and adventures as often as we could. Every tree I see reminds me of my dad and home, they give me comfort and I like to see how different each one is.
The photograph I chose was a picture of a mosaic that has been in my house for as long as I can remember. It is hung on the wall in my kitchen and each time I see it, I think of family dinners and baking with the family. It holds many memories, and the colors are nostalgic. For my quote I added the map for the background, Maps make me think of home because looking at the Atlas at my grandma's house used to be my favorite thing to do. I've collected maps since the beginning of high school, and I continue to find more. My quote is a verse from a song called "songbird" by Fleetwood Mac. My mom would play the cover song by Eva Cassidy and sing it to me when I was in a bad mood.
AJ (ANT-121)
For my print I decided to focus on greenery and life. My dad has always loved doing outdoor projects, from simple gardening to elaborate landscaping. Working (or, in the case of my middle brother, refusing to work) together to take care of our yard or garden is the source of some of my most fond childhood memories. Whenever I go home, my dad is always excited to show me his latest project or have me taste his freshly harvested honey. We will sit in the back and watch the chickens as he regales me with tales of his battles against the foxes and hawks who are always out for an easy meal.
For my photograph, I used the picture we took this spring when my middle brother came back home to Virginia to visit. This picture marked the first time we had all been together since 2020. My brother joined the Air Force right as the pandemic hit, so he was unable to visit home before being sent off to Japan for 2 years. I will always remember how great it felt to have everyone under the same roof again. Even though I have regularly visited my family since my brother left, it never felt fully like home until we were all back together.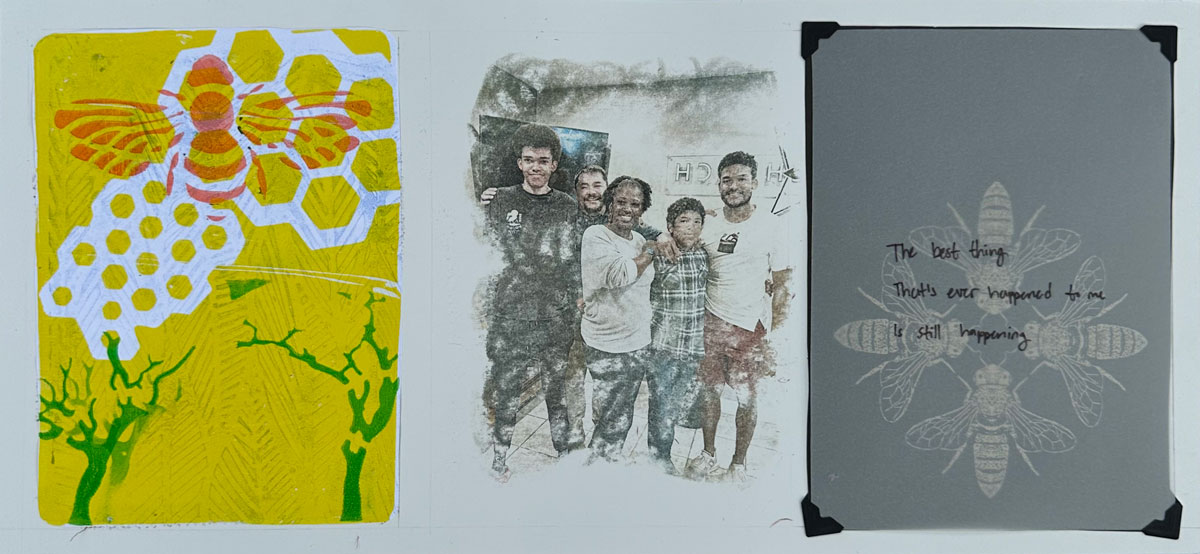 Elizabeth (ENG-101)
I liked creating the triptych because I like art, and I struggle at English, so it made it fun. I feel like in an English class we just write and talk about the book we are reading. For this, we connected three themes that were also in the book we were reading to our own lives. It also allowed us to learn things about our peers that don't come up in a normal conversation. We build connections too.
This project allowed me to develop my idea of home. I thought about people, places and things that made me feel comfortable and not judged. Before I knew those people and things meant something, but it allowed me to say that I feel at home with these people.