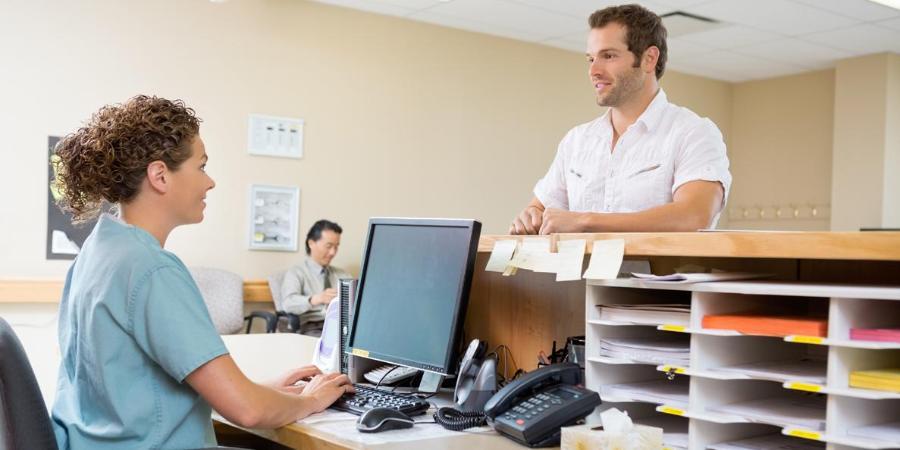 The Medical Assisting department offers degree, certificate and letter of recognition programs for students who wish to enter the health professions field. These programs focus on preparing you to work in a clinical and/or administrative setting in various health care areas, such as physicians' offices, managed care organizations, outpatient care and certain functions within a hospital.
---
Career Degree
Medical Assisting, A.A.S.
The Medical Assisting program at AACC provides you with the tenets of management and supervision in a health care setting, such as budget preparation and management, human resource management and general management of a physician office or health setting.
Loading... in the AACC College Catalog
Credit Certificates
The following certificates are also offered.
Medical Assisting
This accredited program prepares you for employment in physicians' offices, hospital administrative offices, clinics, medical departments of industry and government, and wherever basic office and clinical skills are required. Upon graduation, you will be eligible to sit for certification examinations given by the American Association of Medical Assistants to become a certified medical assistant, the American Medical Technologists to earn a registered medical assistant certification and the National Health Care Association for certified medical assistants and/or medical administrative assistants.
Loading... in the AACC Catalog.

Accreditation
Anne Arundel Community College's Medical Assisting certificate program is accredited by the Commission on Accreditation of Allied Health Education Programs upon the recommendation of the Medical Assisting Education Review Board (MAERB).
Commission on Accreditation of Allied Health Education Programs
25400 US Highway 19 N., Suite 158
Clearwater, FL 33763
727-210-2350
www.caahep.org
Electrocardiogram and Intravenous Therapy Technician
This courses within this certificate teach you the types of intravenous therapies and their purpose. The program prepares you in the ethical/legal and professional tenets expected of the health care professional. You also will learn health concepts such as cardiovascular circulation, basic anatomy and physiology.
---
Additional Studies in Medical Assisting
Electrocardiogram and Intravenous Therapy Letter of Recognition
Are you ready to learn the types of intravenous therapies and their purpose? Upon completing this program you will be prepared for employment in physicians' offices, hospitals, clinics, surgical centers and wherever basic electrocardiogram and intravenous therapy skills are required. Those who are already employed in health care may enroll in this program for career development.
Administrative Medical Assistant Letter of Recognition
This program is designed for students who wish to prepare for an administrative role in a medical office. You will demonstrate the ability to file medical insurance claims, manage the front office in a medical setting and apply principles of basic medical law.
---
What can I do with a degree in medical assisting?
Many medical assisting students go on to other health professions, including:
Public health
Nursing
Medical lab technician or technologist
Pharmacy technician
Medical coding
This is one of the fastest growing fields, and our graduates have had great success in starting their careers.
Learn more about medical assisting's career opportunities, median salaries and job outlook by checking out AACC's Career Coach:
---
Transfer Opportunities

If you decide to earn your A.A.S. degree as a medical assistant, you can transfer to complete your four-year degree. We have partnerships and transfer agreements in place with many colleges and universities so you can easily transfer when you're ready. Transfer agreements (or articulation agreements, as they're officially called) are formal arrangements between institutions that allow certain credits to transfer seamlessly from one school to the other. In addition to the transfer agreement we have with Towson University, you can work with a transfer advisor to set up a specific plan to transfer to the four-year school of your choice.

Scholarship Opportunities

Paying for college should be simple! Scholarships are available for the health professionals of tomorrow.