Student working with teacher on medical equipment, student working on medical equipment, students talking and laughing together, student using calculator, student putting on scrubs, and student working with teacher on medical equipment.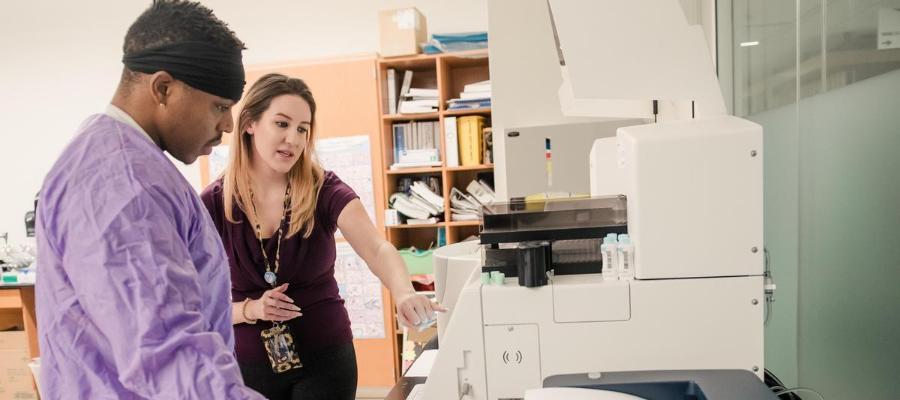 Did you know that doctors and other health professionals often rely on the work of laboratory professionals to make an accurate patient diagnosis?
Medical laboratory technicians analyze blood, body fluids and microbiology cultures; work up blood units for transfusions; operate automated equipment, instruments and analyzers; and conduct manual testing in accordance with federal laws, guidelines and national standards. It is an ever-changing and challenging career that you can take anywhere in the United States. Upon graduation, you can be credentialed as a medical laboratory technician by the American Society of Clinical Pathology Board of Certification.
---
Career Degree
The School of Health Sciences offers the following Associate of Applied Science (A.A.S.) degree. Maryland refers to the A.A.S. as a career degree, because it's intended to provide you with skills to enter the workforce.
Medical Laboratory Technician A.A.S.
In the Medical Laboratory Technician program, you will learn about the immune system, blood cells and blood banking procedures. In the clinical chemistry laboratory, you learn how to diagnose bacteria in patient samples and analyze samples for drugs of abuse, cholesterol and glucose. In your second spring term, you will rotate through four different hospital or clinical laboratory departments.
Upon graduation of the Medical Laboratory Technician program, you will be prepared to take a national credentialing examination.
Loading... in the AACC Catalog.
Credit Certificate
The following certificate program prepares students for employment and feeds into the Associate of Applied Science degree, if desired.
Medical Laboratory Assistant
The Medical Laboratory Assistant (MLA) 29-credit certificate program provides the education needed to prepare you as a trained MLA in a variety of clinical laboratory settings including hospitals, clinics and physician office laboratories. You will learn the practical skills needed to excel as an MLA in in-patient and out-patient phlebotomy and processing, blood donor phlebotomy and processing, specimen accessioning, Point-of-Care and Clinical Laboratory Improvement Amendment (CLIA '88) waived testing, and computer and customer service skills. The MLA program includes a 100-hour practicum and serves as a career ladder from AACC's Phlebotomy Letter of Recognition into the MLA certificate and then to the Associate of Applied Science (A.A.S.) medical laboratory technician (MLT) degree.
Graduates will qualify for entry-level specimen processor positions in the clinical laboratory sector. Upon completion of this program, you are eligible to apply for national certification as a medical laboratory assistant through the American Society for Clinical Pathology (ASCP).
Loading... in the AACC Catalog.
---
Additional Studies
Phlebotomy Technician Letter of Recognition
The Phlebotomy Technician Letter of Recognition is 12 credits and teaches the principles and practice of venipuncture, skin puncturing and processing of samples for laboratory testing. Topics include venipuncture theory and techniques, concepts of cardiovascular anatomy and physiology, terminology and an introduction to standard hospital laboratory tests.
---
Job Outlook
MLT graduates have opportunities to enter flexible health care careers in clinical laboratory science. You can go directly into the clinical laboratory workforce or pursue additional education to earn your bachelor's degree as a Medical Laboratory Scientist (MLS). Many MLS graduates go on to dental, medical and pharmacy schools as well as physician assistant and pathology assistant programs. The background in laboratory science will enable you to take your knowledge to the next level of direct patient care and will aide you in interpreting patients' laboratory results with ease.
Learn more about medical laboratory technology's career opportunities, median salaries and job outlook by checking out AACC's Career Coach:
Transfer Opportunities

If you decide to earn your A.A.S. degree as a medical laboratory technician, you can transfer to complete your four-year degree. We have partnerships and transfer agreements in place with many colleges and universities so you can easily transfer when you're ready. Transfer agreements (or articulation agreements, as they're officially called) are formal arrangements between institutions that allow certain credits to transfer seamlessly from one school to the other. You can work with a transfer advisor to set up a specific plan to transfer to the four-year school of your choice.

Scholarship Opportunities

Paying for college should be simple! Scholarships are available for the medical laboratory technicians of tomorrow.