Give your child an early taste of higher education with a fun and educational experience through the Kids in College program. We offer year-round activities for all children. Kids in College classes are a great way for your child to explore a variety of interests from theater to science, athletics, computers and more.
---
Kids in College is Year Round!
Choose from a variety of interactive after school activities for children who have completed kindergarten through grade 12. Kids in College classes are held after school on weeknights and on weekends throughout the winter, spring and fall.
Register Early - Popular courses fill quickly!
Summer 2019 Registration begins Feb. 23, 2019
Ages 1-5 Years
Grades 1-2
Grades 3-5
Grades 4-6
Grades 5- 8
Grades 6-8
Grades 6-12
Grades 9-12
Comprehensive Math Preparation for the SAT
Comprehensive English Preparation for the SAT.
Camper Forms
Required Camp Forms
These forms are required by the State of Maryland. We are not permitted to allow any child to attend unless we have the state required paperwork.
Medications
If your camper requires any prescription or over-the-counter medications you will need to provide a signed Medication Administration Authorization form from the camper's health provider and schedule a meeting with the nurse at least two weeks prior to the start of your camper's session. The nurse can be reached at 410-777-2480.
Other Required forms for campers who need insulin or epi pens during the camp day.
Camper Accommodations
If your camper has a documented learning, physical, medical or emotional disability, please contact Disability Support Services (DSS) at 410-777-2306 to discuss your camper's needs and the type of accommodations that may be required. You must contact DSS at least 30 days prior to the start of camp to provide time to assess and implement an accommodation request. Inadequate notice may result in your child not being able to attend camp. AACC does not provide personal medical assistants, care attendants or aides of any other type. Parents are not permitted to attend camp with their child.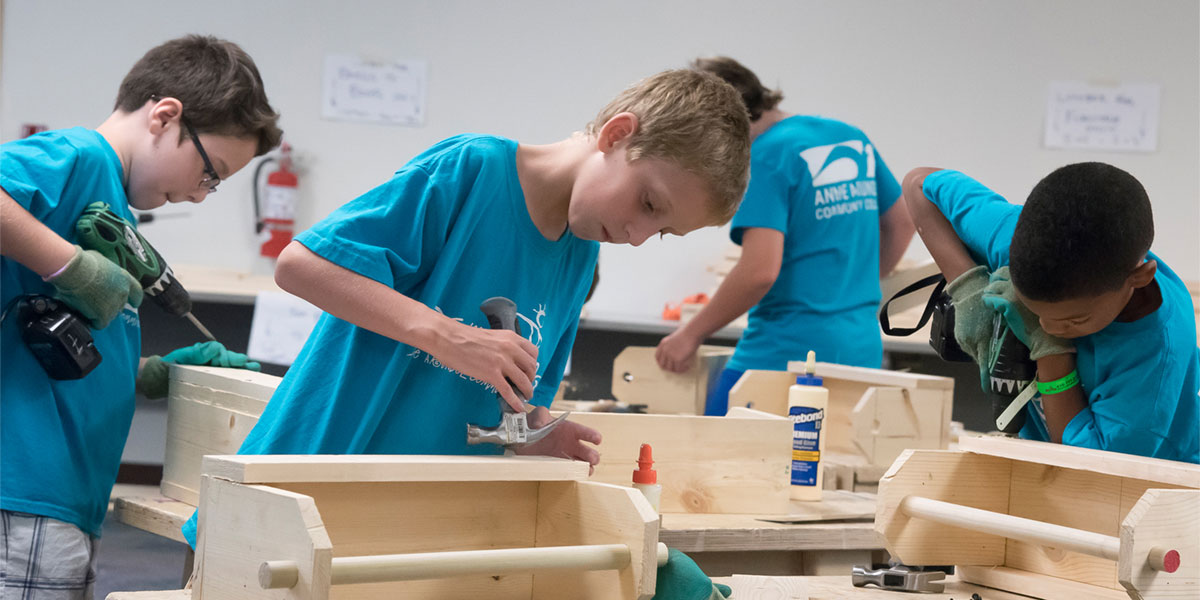 Kindermusik
Kindermusik classes are designed for infants to preschool age children as a way to enrich development and build a foundation for learning through singing, dancing, instruments and games. Enroll today and share the joy of music and movement with your child!
---
Gifted and Talented
EXPLORE courses are offered in partnership with Anne Arundel County Public Schools (AACPS) for students identified as gifted and talented. EXPLORE is an enrichment program to nurture students' potential by stimulating thinking, improving reasoning, enhancing creativity and encouraging group interaction. It is recommended that you check with your child's classroom teacher to determine if they are recommended for these courses.
Grades 1-2
GTE 855 Robotics and Machines with LEGO WeDo
GTE 858 Mechanisms and Machines
GTE 870 Robotics using LEGO WeDo NEW!
Grades 3-5
GTE 861 Minecraft Academy
Grades 6-8
GTE 872 Python Basics NEW!
To find out if your child qualifies, contact the your school guidance counselor and/or contact Betty Elder, Advanced Co-Curricular Program Assistant, Anne Arundel County Schools at 410-222-5430.