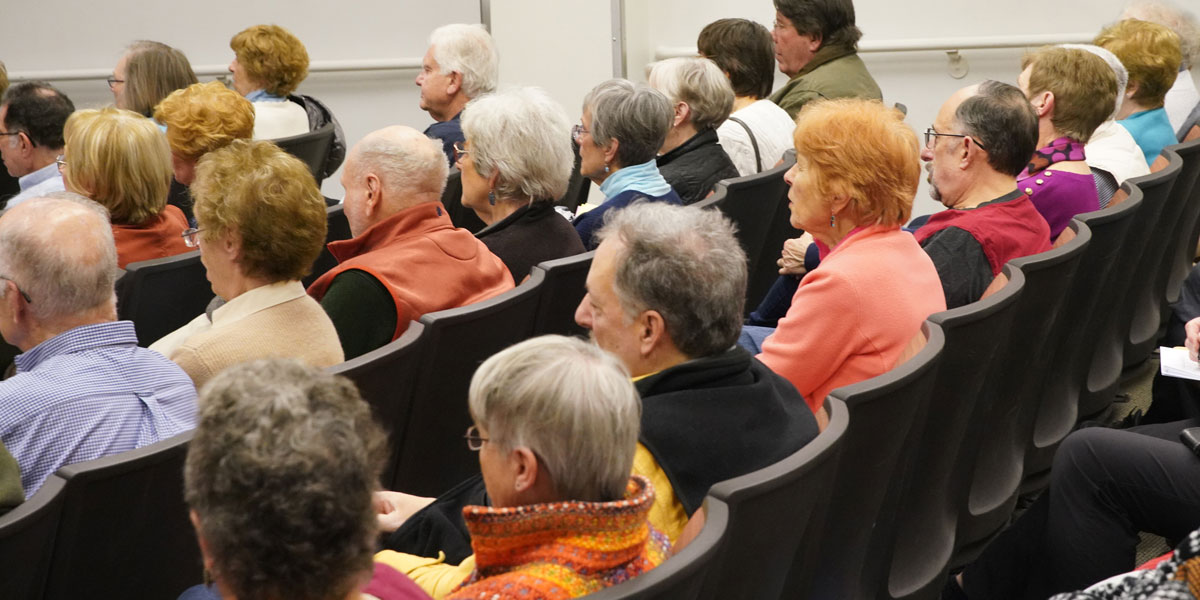 Fridays with Friends
Members also can attend Friday with Friends programs for no additional charge. Every Friday, PLP offer two two-hour programs on a variety of topics in a variety of styles beginning at noon. Fridays with Friends groups include Current Events, Avid Book Readers, History, Science and Technology, Arts and Letters, the Film Forum, and Travel. The schedule for each Friday is posted on Tuesday afternoon.
First Fridays
Current Events: Share your ideas in discussions on contemporary issues and events occurring at the local, national and international levels.
Second Fridays
Science and Technology: Explore the latest scientific discoveries and technological advances from dynamic presenters.
Foreign Policy: Examine U.S. foreign policy topics from the Foreign Policy Association's Great Decisions program.
Third Fridays
Avid Readers: Share ideas by reading recent notable fiction or selections from classical literature and enjoy the lively discussion led by members.
Film Forum: View art movies, foreign films and outstanding classics, followed by a lively, free-flowing discussion based on reflections and insights.
Fourth Fridays
History: Learn about important and little-known aspects of ancient and more recent international, national and local history.
Travel: Expand your perspective on other places around the country and around the globe with presentations from people who have been there. Participants share their adventures with photos and videos and sometimes plan group trips.
Fifth Fridays
Art History: Discussions, presentations and videos on artists, exhibits and museums. View the works of the masters and discuss what makes them great.
Friday with Friends Presents Saturday Programs and Kanopy Klub - First Saturday, 4 p.m.
Kanopy Klub: Discussion of a film that has been viewed by the group ahead of time. The selected films are available on Kanopy, a free film-streaming service of the county library system. A library card, obtained online through the library, is required to access the service. You must be a member PLP to join the Kanopy Klub.