When you imagine your future, what do you see?
A college degree? A better job? A brighter future for yourself and your family? All these things are possible! If you don't have a high school diploma, English is not your first language, or you've been told your math, grammar and writing skills are not considered "college ready," you may have some extra steps ahead of you. Don't let that stop you! You've got this! We can help.
---
English Language Learning
Is English your second, third or fourth language? Do you need or want to speak and read it better? AACC offers classes for those just learning English, as well as for those with more advanced skills.
---
Adult Basic Skills (ABS) & GED® Test Preparation Program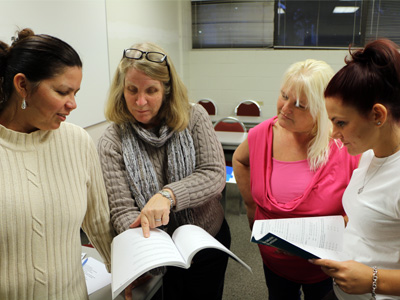 This program is designed for students 18 or older who don't' have a high school diploma and need to prepare for the GED® exam. You will participate in classes which include all four subjects for the GED® test: math, science, social studies and reasoning through language arts. Classes are free and there's no need to apply. We just require that you attend an orientation and assessment before registering for classes. Sign up for an orientation and assessment.
---
National External Diploma Program (NEDP®)
The NEDP® is designed for adult learners as an alternative to taking the GED® exam. This online, performance-based program provides a unique way to earn a high school diploma without taking classes or completing a series of high-stake tests. Rather, you complete program requirements by working independently on a series of assigned tasks or competencies at your own pace. During this time you will meet periodically with a trained NEDP® advisor to develop a portfolio that proves you have the skills required to be awarded a Maryland high school diploma. Before enrolling in the NEDP®, you must attend an orientation and complete assessment. Register for an orientation and assessment.
---
Tutoring
The Tutoring Center offers many tutoring options and academic support services available online and in person. Take advantage of the full-time tutoring faculty, adjuncts, peer tutors, study groups, computer labs and online support. While some tutoring options offer general guidance, others are intended for specific areas of study such as math, science, English, reading and writing.
---
Noncredit Job Training
AACC offers more than 100 short-term, affordable training opportunities across different job fields including welding, plumbing, heating, ventilation and air conditioning repair, carpentry, electrical and more. Getting hands-on training from our expert instructors is a quick path to employment or job advancement.
Learn more about our noncredit job training programs.
---
Noncredit Workforce Scholarships
If you want to learn a trade, get job training or start your own business, AACC offers qualified students the opportunity to enroll in college without the financial burden of paying for classes. Scholarships may pay a certain amount of total tuition and fees for courses within approved programs.
Learn more about noncredit scholarships.