Roots. Confidence. Value.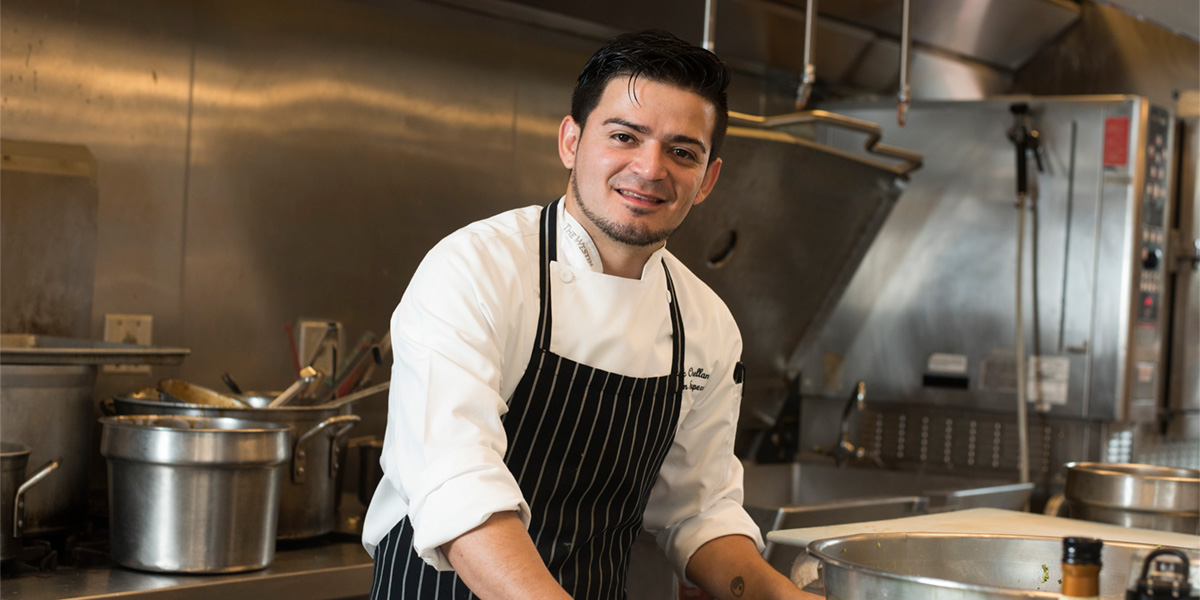 Alex Orellana's love for cooking came from a childhood in his El Salvadorian grandmother's kitchen. So for him, food has long been synonymous with family.
"She was always making me cookies and soups, all this cool stuff to make me feel good," he said. "That's where my passion for cooking came from."
Now that he's the assistant kitchen supervisor at the Westin Annapolis Hotel, Orellana remembers how her food was magical for him as a child. "[It] always made me feel better, it was like medicine for me, and I thought 'This is good, I want to do this for life… I want to make people feel better.'"
That's what he's able to do at the Westin Annapolis, a successful downtown hotel with banquet service and Azure Restaurant. There, he works with a different kind of family.
"When I come to work, I feel like it's not even work, I'm coming here with my family and we talk like friends," he said."I respect them as chefs, but we get along really good." Orellana and many of his coworkers (in varying levels of management) share not only an employer, but also a strong connection to Anne Arundel Community College.
He learned of AACC's Hotel, Culinary Arts, and Tourism Institute just over two years ago, when he started working for the Westin, from coworkers who had attended the school. It seemed a natural way to take the next step in his career, and he says he hasn't been disappointed.
"Every class is worth every penny," he said. "I feel really good about my skills; I can do pretty much everything in the kitchen." Next year he plans to attend full time to expedite his degree, and with a goal of becoming an executive chef.
Cooking doesn't stop once he leaves work; Orellana says he always has time for food at home. He proudly says he cooks the same foods for his six-year-old son that his grandmother once prepared for him. "He's always in the kitchen with me," he said. "He says he wants to be a chef too when he grows up."
The staff and faculty at HCAT will be waiting!
March 2017