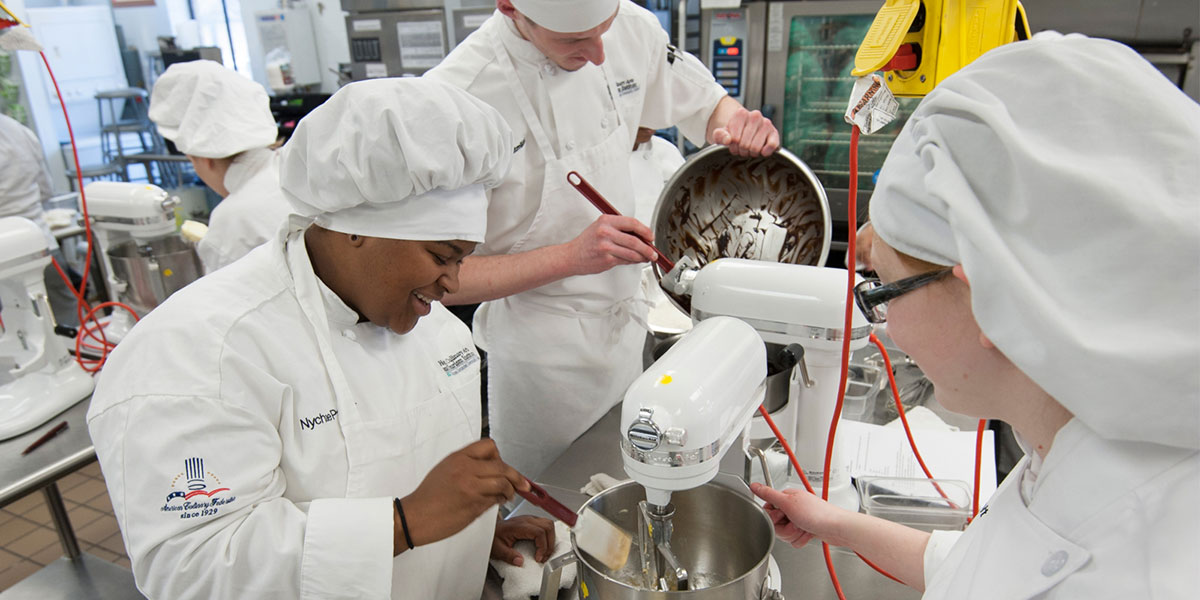 The Hotel, Culinary Arts and Tourism Institute (HCAT) is a leader in providing credit and noncredit courses and programs to meet the needs of a dynamic and expanding hospitality industry.
The hospitality industry is Maryland's largest private employer and continues to expand here and across the nation. Career prospects are best for those with a college education and training.
At HCAT, our mission is to provide accessibility to an array of high quality, credentialed programs; experiential learning; responsive, customized training for business; and fun and credible community education activities that support the hotel, culinary arts and tourism needs of the industry and the consumer.
---
Credit Programs

HCAT's Associate of Applied Science degree is accredited by both the American Culinary Federation Foundation's Accrediting Commission and the Accrediting Commission for Programs in Hospitality Administration. Students may select from several majors.

Associate of Applied Science Degrees

Credit Certificates

Uniform and Supply Requirements

Continuing Education

Industry-specific job training for students interested in pursuing new opportunities or for those currently in the industry but requiring additional training is available in the following areas:

Personal Enrichment

The HCAT Institute also offers a variety of noncredit cooking classes for beginners and culinary experts alike in the areas of Cooking Demonstrations, Entertaining and Lifestyle, Food and Society, Hands-on Cooking, Tasting Series and Wine and Beer Academy. Tempt your taste buds with delicious demonstrations, hands-on cooking and wine and beer classes.

We have gaming classes aimed at helping complete beginners and those who are already familiar with how to play casino games. Never played in a casino before? We'll help you get started.
Faculty and Staff
The staff and faculty of HCAT Institute have a commitment to academic excellence and an enthusiasm to help students excel while maintaining a nationally-recognized status as a leader in all aspects of hospitality training.
Chef Matthew Herron, CCE, Director
Email Matt or call 410-777-2707
Chef Matt Herron, CCE, has a deep seated passion for food and the food industry. This can be seen through his over 20 years of experience running kitchens in casinos, restaurants, grocery, as well as a background in TV shows, publications, and food styling at America's Test Kitchen. Prior to joining AACC, Matt started down the path of education by hosting internship programs, and functioned as the program Chair at Le Cordon Bleu. This journey continues to drive him, and as the director of the HCAT program he works to develop and maintain sound educational systems that are learner-centric, with a foundation based on the knowledge, skills, and abilities that the community needs. He received his B.A. in Psychology from Penn State, an A.A.S and a B.S. in Culinary Arts from Johnson & Wales, and an M. Ed. in Learning Design and Technology from Purdue.
Chef Donnisha Grant, MSIHM, CHE, Assistant Director
Email Donnisha or call 410-777-2314
Donnisha Grant, MSIHM, CHE, teaches hospitality courses on all levels: culinary math, food safety and sanitation, career leadership development, entrepreneurial leadership and organization behavior. With over 5 years of teaching experience and over 10 years of industry experience, her main focus is to attract and expand the minds of students who are entering the hospitality management field. Because of her culinary background, Ms. Grant has the ability to transition from hospitality to culinary courses, redirecting the focus from customer service and costing out recipes to effective purchasing and proper sanitation. Donnisha received her A.A.S. in Culinary Arts from Baltimore International College. After the completion of that degree, she received her B.S in Hospitality Management from Morgan State University and then obtained her M.Ed. with Strayer University. Finally, she completed her Certified Hospitality Educator certification and followed that certification up with the completion of her second Master's degree in International Hospitality Management with Stratford University.
Chef David Ludwig, CEPC, CHE, Assistant Director
Email David or call 410-777-2063.
Chef David Ludwig, CEPC, CHE, began his career as a pizza maker at the age of 16. After attending the Academy of Culinary Arts, he spent 4 years working for a French Boulanger, Michel Gras, at La Patisserie, a French Bakery in Cape May, New Jersey. David spent the next five years in various positions, including pastry cook at the Trellis Restaurant, and executive pastry chef for the College of William and Mary, in Williamsburg, Virginia. David then accepted a position at the Five-Star, Five-Diamond Jefferson Hotel in Richmond, VA. While there, he completed several courses at the Culinary Institute of America, both in Hyde Park, NY and Greystone, CA. After moving to Maryland, David helped re-open the Reynold's Tavern in Annapolis as chef for their English Tea Room. During this time, he began working as an adjunct instructor for the Hospitality, Culinary Arts and Tourism Institute. He has taught full-time as an Instructional Specialist since 2005 and is adviser to the HCAT Chef's Club. David is a member of the American Culinary Federation, and he is a Certified Executive Pastry Chef.
HCAT Instructional Staff/Advisors
HCAT's instructional staff is ACF accredited and have a broad, extensive background of industry experience. Professionals with a passion for excellence in education, they are dedicated to improving student learning and outcomes. Learn more about our team and read their biographies below.
Baking and Pastry
Chef Carrie Svoboda, CWPC
Email Carrie or call 410-777-2065
Carrie Svoboda, CWPC received a Bachelors of Fine Arts in Education from Long Island University. Carrie worked as a public school teacher both here in Maryland and in New York. She then returned to the classroom as a student to earn her Associates Degree in Baking and Pastry Arts from Anne Arundel Community College. Her experience includes a variety of positions including Army Navy Country Club, Happy Chicken Bakery and Knoxie's Table. She has now combined her love for baking and pastry with her passion to share knowledge with others. Carrie began teaching at Anne Arundel Community College as an adjunct instructor for the Hotel, Culinary and Tourism Institute in 2016 and joined the team as an Instructional Specialist in 2018. She is a Certified Working Pastry Chef through the ACF.
Chef Virginia Olson, CWPC, CHE
Email Virginia or call 410-777-2208.
Chef Virginia Olson, CWPC, CHE, began her culinary career in pastry at The Main Ingredient in Annapolis and Renaissance Pastries in Savage, Maryland. She has worked as a pastry chef at the Harbor Court Hotel in Baltimore, at 1789 in Georgetown and Butterfield 9 in downtown Washington, DC. She is a certified Working Pastry Chef and is in her 8th full year at Anne Arundel Community College. Chef Olson holds a Master's Degree in Russian Studies from Georgetown University, a Bachelor's Degree in Russian and International Studies from the University of Oregon and has traveled extensively in the United States and Europe. She is a 1995 graduate of L'Academie de Cuisine in Gaithersburg, Maryland and currently specializes in artisan breads, chocolate and confections. Chef Olson has completed additional programs of study at the International School of Confectionary Arts, CIA Greystone in Napa, California and King Arthur Flour, Norwich, Vermont.
Culinary
Chef John V. Johnson, CEC, CCE, AAC
Email John or call 410-777-1225.
Chef John V. Johnson CEC, CCE, AAC, has been in the food service industry for over 30 years. His experience includes opening the Brass Elephant Restaurant in Baltimore and being the executive chef at Rolling Road Golf Club and Great Occasions Catering. John has taught culinary arts for the past 21 years with the Howard County Public School System, Carver Center for Arts and Technology, and Johnson & Wales University in Denver. He is currently teaching at Anne Arundel Community College's Hospitality, Culinary Arts & Tourism Institute. John is a Certified Executive Chef, Certified Culinary Educator and member of the American Academy of Chefs, the National Honor Society of the American Culinary Federation. John was the Maryland ProStart Teacher of the Year in 2004 and the Colorado Chef Educator of the Year in 2006. He graduated Cum Laude from Towson University with a Bachelor of Science in Mass Communications. His enthusiastic love of food fuels his energy for teaching. In his spare time, John enjoys golf, scuba diving and skiing.
Chef Michael Levins, CEC, CCA, WCEC
Email Michael or call 410-777-2918
Michael Levins's background in the culinary industry covers over 20 years in many roles. Some of his career highlights include the Vanity Fair Oscar Party and working at Walt Disney at the Rotunda, in the Executive Dining Room. In addition to his position at the college, he holds several positions and appointments, including Certification Chair for the Greater Baltimore ACF chapter, Certification Evaluator Trainer for the ACF and most recently, Post-Secondary Accreditation Education Evaluator by the ACF. Chef Levins is a CEC (Certified Executive Chef), CCA (Certified Culinary Administrator), and WCEC (World Certified Executive Chef).
Chef Randy Stahl, CEC
Email Randy or call 410-777-1178.
Chef Randy Stahl began his culinary career while still in high school, working through summers and holiday breaks at Merrickana Kosher Caterers in New York. After graduating from the University of Pittsburgh in 1971 with an economics degree and business minor, he attended The Culinary Institute of America in Hyde Park, New York. He graduated with high honors in 1974. Upon graduation he worked as sous chef and chef de cuisine at Sal Anthony's in Gramercy Park, New York City, where he earned three stars from the New York Times.
In 1977, Randy joined the Country Fare Group as chef-partner in, Fiori, a new Italian restaurant specializing in homemade Italian casa lingua style cuisine. In 1980, Randy co-founded another Baltimore landmark restaurant, The Brass Elephant. This restored 1870's property earned him the first of Maryland's Distinguished Restaurants of North America (DIRONA). Esquire Magazine awarded The Brass Elephant one of the top new 75 restaurants in 1981. The Brass Elephant has been a perennial Baltimore Magazine's Best winner in many fine dining categories including most romantic, best wine list, best Italian cuisine and best cocktails. In 1995, Randy and his staff were selected to prepare the banquet following Pope John Paul II mass at Camden Yards in the private residence of Cardinal Keeler of Baltimore.
Throughout his career, Randy has committed to many local and national charities including Maryland Food Bank, Second Helping, Share our Strength, Operation Frontline, Great Chefs Dinner for the Center for Child Abuse Prevention Center of Maryland, American Cancer Foundation, Kidney Foundation, Chesapeake Bay Foundation, Heritage Festival, American Culinary Federation and Cystic Fibrosis. In 1997, Governor Parris Glendenning awarded Randy with the State of Maryland Governor's Volunteer of the year.
In 2000, Randy co-designed and built a fast, casual, 240-seat Italian concept Remomo café Italia in Anne Arundel County, Maryland. He worked as Executive Chef-General Manager at Remomo until 2011 when he began his second career at Anne Arundel Community College.
Hospitality Management
Chef Ken Jarvis, CEC, CCE, CHE
Email Ken or call 410-777-2722.
Ken Jarvis, Professor, CEC, CCE, CHE, has been with the HCAT Institute since 1993. His 26 years of extensive professional experience in both front and back-of-the-house positions for full-service and catering establishments prepared him for his current position at HCAT. He has a long list of accomplishments including direct management of a 250-seat restaurant as well as an exclusive catering business; food, equipment and supplies distribution; and Executive Chef/management at a local waterfront restaurant. Ken holds a Master of Science degree in Business Administration, a Bachelor of Science in Food Service Administration, Dietetics and Nutritional Care, and an Associate Degree in Occupational Studies from the Culinary Institute of America. He is a member of the International Association of Culinary Professionals and the American Culinary Federation.

Noncredit Food and Culinary Arts
AACC's Hotel, Culinary Arts and Tourism Institute is pleased to provide top-notch instruction for their noncredit classes by leading professionals from AACC's staff and the community.
Noncredit Instructors
Tia Berry
Greg Bujak
Lisa Byrd
Shawn Dann
Christopher Flaherty
Melissa Hawkins
Cheryl Ignaczak, CSC
Roberta Lowe
Todd MacSorley
Darlene Proctor
Kurt Rauschenberg
Dan Rendulic
Christine Romans
Michael Santos
Rebecca Sileo
Ted Tyler
Julia Wills