The college is chartered by the state of Maryland and governed by the board of trustees, consisting of seven community members and one student member with full voting rights (see Code Education Article, secs. 16-101 through 16-103).
The college president attends meetings, serves as secretary-treasurer, and is a nonvoting member. The governor appoints community members for six-year terms with the advice and consent of the state senate. The chair is elected from the larger group.
---
Lawrence W. Ulvila Jr.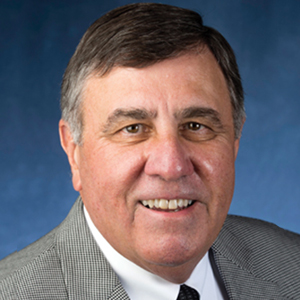 Current chair. Appointed to a six-year term beginning July 1, 2016.
Ulvila is a founding partner of Insurance Solutions. He chairs the Anne Arundel Medical Center Outreach Council on Mental Illness and Alcohol/Substance Use and is on the board of Leadership Anne Arundel. Ulvila is the past chair of the Anne Arundel Medical Center Foundation board, AACC Foundation Inc. board, Annapolis and Anne Arundel County Chamber of Commerce, The 21st Century Education Foundation and the National Association of Insurance Agents and Financial Advisors Anne Arundel County.
---
Sandra E. Moore, M.A., RT(R)(M)
Vice chair. Appointed in 2015 to complete the term of a member who resigned.
Moore is the director of the Schools of Medical Imaging at The Johns Hopkins Hospital in Baltimore. She had been director of the Radiography program at Johns Hopkins and the clinical coordinator of the Radiography program at Anne Arundel Community College. She also is a site visitor for the Joint Review Committee in Radiologic Technology and has worked as a consultant. Moore coordinates continuing education programs for radiologic technologists and frequently makes presentations in the field. She also has been national chair for the American Roentgen Ray Society Advisory Panel for the continuing education of radiologic technologists.
Moore earned a Bachelor of Science in Education from George Mason University in Fairfax, Va., a radiography certificate from The Johns Hopkins Hospital and also is certified in mammography. She has a Master of Arts in Leadership in Teaching from the Notre Dame of Maryland University.
---
Paula J. Darrah, J.D.
Appointed in 2016 to complete the term of a member who resigned.
Darrah is an attorney with Warfield & Darrah P.C. in Severna Park.
She earned a Bachelor of Arts degree from the University of Maryland, College Park and a law degree from the University of Baltimore School of Law. Her practice focuses on family law, including trial practice in divorce, custody and support. She was admitted to the Maryland Bar in 1985, to practice before the U.S. District Court for the District of Maryland in 1986 and before the U.S. Supreme Court in 2001.
Darrah is a member of the Anne Arundel Bar Association and the family law section of the Maryland Bar Association and the American Bar Association. She also has been a lecturer for the county bar association, the YWCA and other civil groups.
---
Rev. Dr. Diane R. Dixon-Proctor
Appointed 2008, reappointed 2014; chair, 2014-2015, 2016-2017; vice chair, 2012-2014, 2015-2016.
The Rev. Dr. Dixon-Proctor is senior pastor of Lincoln Park United Methodist Church in Washington, D.C. For eight years, she served as senior pastor of John Wesley United Methodist Church in Glen Burnie, where she implemented programs for ex-offenders, a food bank, a winter relief shelter and a Women's Empowerment Center. The New York City native also owns a fashion boutique, Occasions by Diane.
The Rev. Dr. Dixon-Proctor's leadership involvement can be seen throughout the region. She has organized and worked with many faith-based justice and community organizations. She serves on the board of the Capitol Hill Group Ministry and The Veterans Resource Center (both in Washington, D.C.), the board of directors of One Church One Child of Maryland, former County Executive John Leopold's Clergy Advisory Board, Baltimore Regional Initiative For Genuine Equality (BRIDGE) and the American Association for Pastoral Counselors. The Rev. Dr. Dixon-Proctor also is the chaplain for the Baltimore Washington Medical Center in Glen Burnie. She began her career in the corporate world employed by the National Urban League as its outreach director for five years and by Xerox Corp. as a senior marketing manager for 10 years.
She earned a bachelor's degree from Virginia Commonwealth University, a Master of Divinity degree from The Samuel Dewitt Proctor School of Theology at Virginia Union University, a Doctor of Ministry from Richmond Virginia Seminary and a certification in pastoral counseling from Wake Forest University Baptist Medical Center in North Carolina.
---
Walter J. Hall
Appointed in 1984 to fill out term of member who resigned; reappointed in 1987, 1993, 1999, 2005, 2011; chair, 2003-2004; 1994-1998; 1988-1989
President and owner of Annapolis Bowl, Severna Park Lanes and Greenway Bowl in Odenton, Hall also is chair and owner of The English Company, a restaurant and catering chain based in Salisbury. He is chair of the Hall Investment Group, Hall Development Company and a principal in Hall Enterprises, a consulting business. From 1985 to 1995, Hall was a partner in the Healthrax Group, a chain of 13 health and fitness clubs in New England. He also was president and CEO of BTR Realty Inc. and chaired it from 1981 to 1986. His work with Fair Lanes Inc. from 1967 to 1995 involved leadership roles ranging from vice president to president and CEO to chairman and then consultant.
Hall is a graduate of the City of Liverpool College of Technology and the Harvard Business School. His service includes commissioner with the Maryland Health Resources Planning Commission, trustee of the International Bowling Museum and Hall of Fame, former member of the National Bowling Council, president of the Bowling Proprietors Association of America, vice president and a member of the board of directors of Bowling Inc. and a member of the board of the Maryland Bowling Proprietors Association.
Hall serves as chair of The Smart Corp., the bowling industry's $40 million scholarship foundation. He also served as president of the M.U.B.I.G. chain operators group in bowling. Hall has been active in many local and regional civic organizations and is a director of the Baltimore Washington Medical Center. He has received many honors and awards, including a citation in 1999 from the governor for Outstanding Service and Significant Contributions as a Respected Member of Maryland Health Resources Planning Commission. That same year he also received an Executive Citation for Service to the Community as co-chair of the Citizens Committee on Maintenance, Repair and Renovation of Public Schools from the county executive. In 2009, Hall was inducted into the Comcast Business Hall of Fame by the Annapolis and Anne Arundel County Chamber of Commerce.
---
James H. Johnson Jr., Ph.D.
Appointed in 2006; reappointed in 2012; chair, 2008-2011; vice chair, 2007-2008
Johnson is a professor emeritus of civil engineering and former dean of Howard University's College of Engineering, Architecture and Computer Sciences. He has worked at Howard University since 1971, where, in addition to being dean, he served as the Samuel P. Massie Professor of Environmental Engineering. Johnson earned a Bachelor of Science degree in Civil Engineering from Howard University; a Master of Science degree in Sanitary Engineering from the University of Illinois, Champaign-Urbana; a doctorate in applied sciences from University of Delaware and a certificate in college management at Carnegie-Mellon University.
In addition to his teaching background, Johnson serves as chair of the National Advisory Council for Environmental Policy and Technology (NACEPT). He also served as a technical consultant on several environmental engineering projects; performed many sponsored research projects; written and presented on numerous topics regarding engineering and hazardous waste management; and has received many honors and awards.
---
Jerome W. Klasmeier
Appointed in 2002 to complete the term of a member who resigned; reappointed in 2008 to complete the term of a member who resigned; reappointed in 2012; vice chair 2004-2006, 2008-2009, 2011-2012, 2016-2017
Klasmeier, former assistant comptroller of Maryland, has had a distinguished career in public service for many years. He earned a Bachelor of Arts from Loyola College and served in the U.S. Army as a commissioned officer.
Klasmeier has served nearly four decades in state and county government, including serving as chief administrative officer to former County Executive Janet Owens and as a former special projects consultant to Anne Arundel County. His civic work includes service as a member of the Hospice of the Chesapeake Foundation, the Providence Center board of directors and the advisory board to the adjutant general of the Maryland National Guard Military Youth Corps Challenge Program.
---
Caleb Schaeffer
Appointed in fall 2018
Caleb Schaeffer is a full-time Nursing student on track to graduate in May 2019. Since his enrollment as a part-time student in 2014, Schaeffer has completed three associate degrees with honors, two transfer degrees and a degree in Massage Therapy. He has been involved in the Chemistry Club, Biology and Environmental Science Club, the Leadership Challenge Program, Student Government Association and Campus Advisory Board. Schaeffer is a campus and STEM ambassador, orientation leader and tutor.
---