Sometimes Redefining is Recognizing What You Want.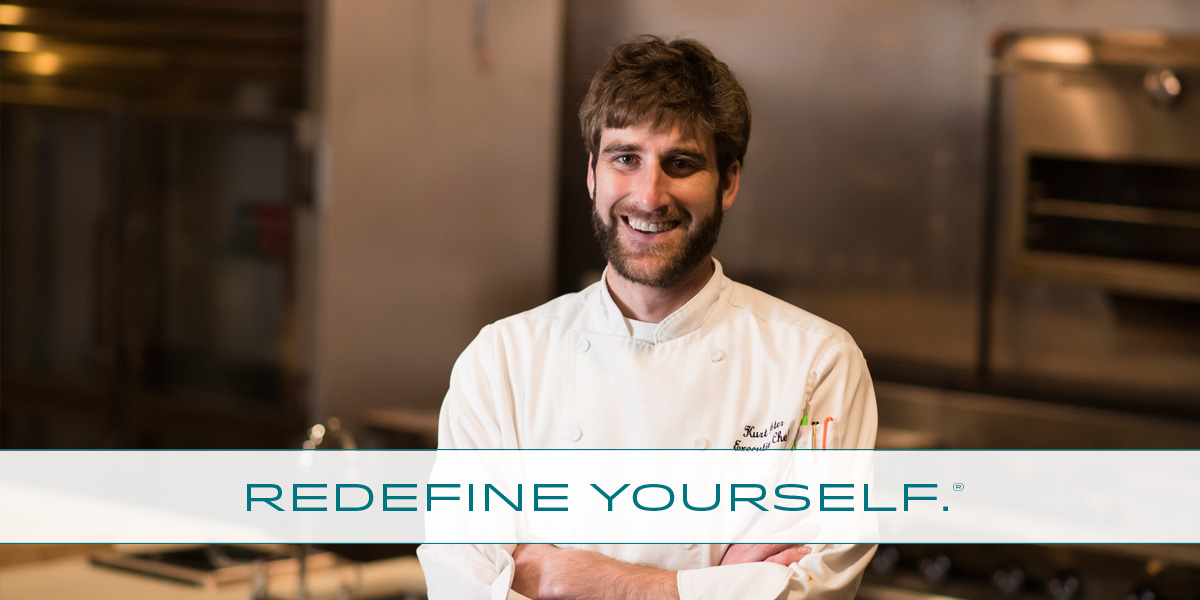 Kurt Peter played lacrosse and earned a sports management degree at Lynchburg College. After graduating, he landed a position in his chosen field… and was miserable.
"I was in a position, I reported to a leader and it was very monotonous work," he said of his job with Richmond's minor league baseball team, the Flying Squirrels. "I needed an outlet for creativity. Food was it."
Working in a kitchen since he was 14, Peter originally had not wanted to pursue a career path where he had seen the "wear and tear on families and bodies." Staying out of the kitchen was a struggle, though – a temptation he had to resist. "So one day I just threw the towel in and said 'I'm going to stop fighting it and follow my passion.'"
When the chef with the Flying Squirrels left, Peter stepped out of stadium operations and back into the kitchen. But even trading the office chair for a chef's hat couldn't silence the thought that his career had, once again, stagnated.
Peter toyed with a couple possibilities, including getting into the private yacht industry, but wanted teamwork, which a one-chef kitchen can't provide. Motivated to move forward, he took a day off and visited AACC. "It was very professional," he said, noting that the Hotel, Culinary Arts and Tourism Institute is known for expecting a lot from its students, while equipping them with the skills to excel in their careers. He was sold.
Though far from a novice in the kitchen, Peter said his AACC experience took him to a completely different level. "They kind of helped mold and shape me, get me on the right page to use my talents," he said. "I felt like I was missing the basic elements: the history of the food, where we all started and why and how we build things on the plate. I was wrapping my brain around how to create recipes." In some ways, what he learned at AACC helped him bring out thoughts and ideas that had been locked inside. "It helped me express what I was thinking in my brain, to develop it and then put it on a plate. I needed that one little stepping stone to get me back on track, to get me where I am today"
Peter is now the executive chef and the food and beverage director at Westin Annapolis. He leads a crew that feeds an estimated 800,000 people a year through restaurants, banquets and off-site events.
Peter said he finds great joy with his new career. "I get to put my thoughts and feelings literally on a plate for other people to share," he said. "I kind of feel like food draws people together. Whether you're doing a giant banquet or a small family meal in the restaurant, I can share the happiness."
Switching careers and restarting in general is never easy, he said, but it's worth it. "I was nervous. I had hesitation, but you have to follow your passion," he said. And he's not alone. "When I'm going through applications, I see people are very educated, but still going back to school. … I have guys coming in with a four-year degree, wanting to become a line cook to crack into this industry."
The cooking is important, but being in a position of leadership also helps him tap into his athletic past. "The kitchen is all about teamwork," he said. "A huge part of this job is being a mentor for a lot of these young guys."
The Westin also works with The Light House Homeless Prevention Support Center, which provides support for the area's homeless population. Peter oversees the internship program where residents work in the kitchen at the Westin. "I absolutely love that part of the job," he said.