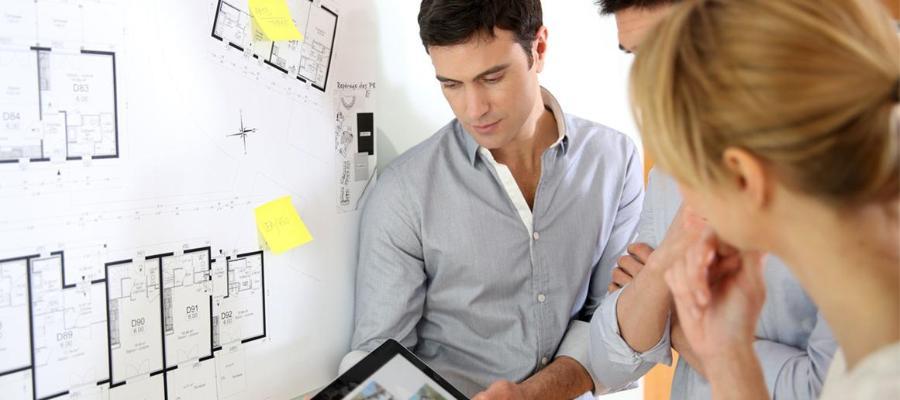 Do you enjoy the process of creating something from nothing? Can you look at raw materials and envision possibilities others simply can't see? Do you enjoy being able to see, touch – even walk around in – your finished product?
AACC's degree and certificate programs in Architecture might be a perfect fit. Our expert professors will teach you to balance right-brain creativity with left-brain calculation and precision, preparing you for success in a rewarding career or for transfer to a four-year institution.
---
Career Degree
AACC offers the Associate of Applied Science (A.A.S.) in Architecture. The state of Maryland refers to the A.A.S. as a career degree because it's intended to provide you with skills to enter the workforce. AACC has entered into transfer agreements that allow this degree to transfer to select colleges. That information is noted under "Interested in Transfer" below.
Architecture, Architecture and Interior Design, A.A.S.
Prepare for a career as a computer-aided design (CAD) operator or for transfer to a four-year degree in architecture. You'll learn the latest in CAD technology, building information modeling (BIM) and sustainable design based on LEED (Leadership in Energy and Environmental Design). You'll even develop your own architectural design portfolio, crucial for launching your career or earning admission to top four-year schools.
Credit Certificates
The following certificates prepare students for employment and feed into the A.A.S. degree, if desired.
Architecture and Interior Design, Architectural Illustration
For students interested in the artistic side of architectural design, the Architectural Illustrator Certificate teaches techniques in drawing and presenting professional architectural renderings.
Architecture and Interior Design, Architectural CAD
Learn to use computer technology to delineate building materials for residential and commercial building projects, essential skills for aspiring CAD (computer-aided design) operators and architectural technicians.
Interested in Transfer?
The Department of Architecture and Interior Design has articulation (transfer) agreements with a number of four-year colleges and universities in Maryland and beyond, so the transition from AACC to your college or university of choice can be seamless and straightforward.
All universities require a portfolio of student work for granting architecture transfer credits. Students should keep all work (i.e. exercises, schematic sketches and final projects) from their courses to demonstrate their abilities. Architecture students will design a portfolio as part of their studio assignments in ACH 212.
Most colleges require a two-year degree for acceptance into their program. Transfer students are normally accepted as juniors and will be placed into a design studio based on their portfolio, usually a second or third year studio. The better your portfolio, the higher your placement!
We currently have architecture transfer agreements with the following schools. Be sure to meet with an academic transfer advisor and the department chair to help determine the best path option for you.
In addition, we offer a Transfer Studies, A.A. degree that allows you to choose an area of concentration (or major) while completing your state of Maryland general education requirements.
Learn more about AACC Transfer Services.
---
What can you do with a degree in Architecture?
After graduation, AACC Architecture students can choose between joining the workforce or transferring to pursue a four-year degree. Many students do both. Possible job titles include:
Architect's field representative
Architectural designer
Architectural drafter
CAD operator
Construction manager
Estimator
For outlook information about specific careers, visit the Bureau of Labor Statistics Occupational Outlook Handbook.
---
Related Studies
If architecture sounds appealing, but you'd like to compare it to other AACC offerings, see if one of these is a better fit.