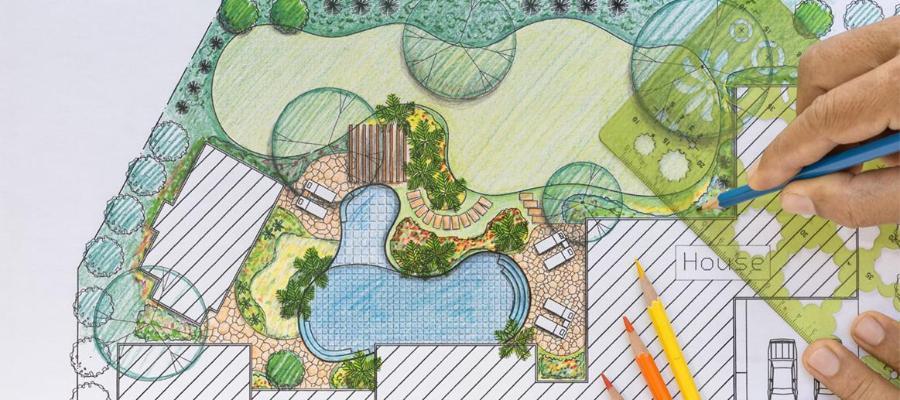 Are you searching for a career that's a little bit art and a little bit science? Do you want to understand the technical process behind creating beautiful outdoor spaces? Do you want to see the results of your work and watch other people enjoy them?
AACC's award-winning Landscape Design option might be for you. You'll learn how to create an outdoor environment using a process that incorporates both ecological systems and good design strategies. Our versatile program prepares you to transfer to a top four-year college or university or to go straight into a promising career. Frequently our students do both.
---
Career Degrees
AACC offers the following Associate of Applied Science (A.A.S.) degrees. The state of Maryland refers to the A.A.S. as a career degree, because it's intended to provide you with skills to enter the workforce. In some cases, AACC has entered into transfer agreements that allow these degrees to transfer to select colleges. A list of active agreements may be found on this website. You can also learn more about transferring from AACC to continue your education.
Architecture and Interior Design, Landscape Design, A.A.S.
You'll get a strong overview of Landscape Design principles while developing essential workforce skills to use to launch your career. You'll explore diverse landscape typologies and gain an understanding of environmental, health and safety, sociopolitical and sustainable influences on design strategy.
Credit Certificate
The following certificate prepare students for employment and feed into the A.A.S. degree, if desired.
Architecture and Interior Design, Landscape Design
You'll gain hands-on training for a career as a technical drafter or assistant within the landscape design industry. You'll learn about materials and systems, as well as how to assemble them, and acquire visual and oral presentation skills to take your career to the next level. You can go straight into the workforce or transfer your credits toward an Associate of Applied Science degree in architecture and interior design, or to schools offering a bachelor's degree in building construction or construction management.
Interested in Transfer?
If you're interested in earning a four-year degree and want to study this subject, Transfer Studies may be your solution. This distinctive degree is designed to let you choose an area of concentration (or major), while completing your state of Maryland general education requirements.
Transfer Studies, A.A.
The Transfer Studies, A.A. allows you to explore different subjects or concentrate on a specific course plan that will best meet your in-state (and even some out-of-state) transfer goals. If you hope to transfer to a specific program or school, one of our advisors can help structure your AACC studies specifically for that purpose. The result? You get a well-rounded associate degree preparing you for further studies and successful career.
Loading... in the AACC College Catalog.
---
What can you do with a degree in Landscape Design?
Graduates of our programs frequently go on to exciting and rewarding careers as:
Landscape design CAD operators
Site surveyors
Map developers
Sustainability officers
Water resource specialists
Plus, with four-year transfer agreements with dozens of colleges in Maryland and beyond, an AACC degree has never been a better investment. For outlook information about specific careers, visit the Bureau of Labor Statistics Occupational Outlook Handbook.
---
Related Studies
If Landscape Design sounds appealing, but you'd like to compare it to other offerings, see if one of these is a better fit.