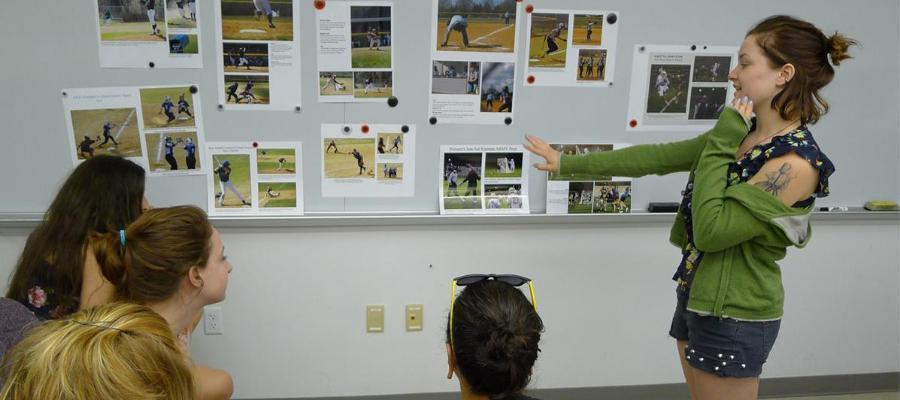 Are you searching for a career where you can stretch your creative muscles, help organizations problem solve and create work both by hand and with technology?
Graphic design is a flexible field. You can work for a large design agency, the government, a small nonprofit or run your own freelance business. You can do digital work or create work by hand. And at AACC, you'll enjoy small class sizes, one-on-one time with faculty and state-of-the-art software, hardware and labs. You'll develop a portfolio that can help you jump-start your career right now or prepare to transfer to a top design school.
---
Career Degree
AACC offers the following Associate of Applied Science (A.A.S.) degrees. The state of Maryland refers to the A.A.S. as a career degree, because it's intended to provide you with skills to enter the workforce. In some cases, AACC has entered into transfer agreements that allow these degrees to transfer to select colleges. A list of active agreements may be found on this website. You can also learn more about transferring from AACC to continue your education.
Graphic Design, Visual Arts Professional, A.A.S.
Cultivate the fundamental skills of graphic design, including drawing, typography, digital imaging, photography, page design and layout. You'll gain valuable real-world experience through internships, service-learning projects and work with local organizations. Our faculty will help you polish your portfolio and achieve your goals. You'll be ready to start a new career or get ahead in your current one. This A.A.S. is not intended as a transfer degree, nor is it optimal for very recent high school graduates.
Transfer Degree
The Visual Arts and Humanities department is proud to offer the Associate of Arts (A.A.) in Visual Design.
Visual Design (Web and Graphic), Visual Arts Transfer, A.A.
You'll gain a broad background in photography, design and the history of Western art, with the ability to take specialized courses in illustration, typography, color and so much more. You'll build a foundational portfolio that you can display during our annual Student Art Portfolio, where more than 20 local, regional and national schools come to meet and review the portfolios of our graphic design and visual arts students. When you finish, you'll be well prepared to transfer to a four-year college or university. And our transfer students are better prepared and more apt to receive scholarship money than many of their four-year peers.
Credit Certificate
The following certificate prepares students for employment and feeds into the A.A.S. degree, if desired.
Visual Arts, Graphic Design
You'll gain a broad background in the fundamentals of design such as imaging, photography, typography and page layout and design. This certificate is for professionals already holding a degree who wish to make a career change or update their skills in the graphic design industry.
---
Job Outlook
You can transfer to a four-year university, create your own freelance business or enter the workforce. Our graduates pursue a number of rewarding careers, such as:
Graphic designers
Graphic specialists
Instructional designers
Junior designers
Media specialists
Visual designers
Web designers
They work at a variety of companies as well, such as design agencies, web companies, large corporations, government entities, nonprofits or small businesses.
Learn more about career opportunities, median salaries and job outlook for these programs by checking out AACC's Career Coach:
---
What Our Alumni Say
---
Transfer Opportunities

If you decide to earn your A.A. degree in graphic design, you can transfer to complete your four-year degree. We have partnerships and transfer agreements in place with many colleges and universities so you can easily transfer when you're ready. Transfer agreements (or "articulation agreements," as they're officially called) are formal arrangements between institutions that allow certain credits to transfer seamlessly from one school to the other. After completing our program, you can seamlessly transfer to:

In addition to these schools, you can work with a transfer advisor to set up a specific plan to transfer to the four-year school of your choice.

Scholarship Opportunities

Paying for college should be simple! Scholarships are available to help you prepare for your career in graphic design: