A Continuous Journey
So many have and are suffering through the nation's opioid crisis. Denise Akers shares the vision that brought her back to college and continues to drive her. Nicole Williams, Ph.D., reflects on the care human services practitioners must provide: for their clients, students and themselves.
Read transcript.
Listen with captions.


---
Our Guests
Denise Akers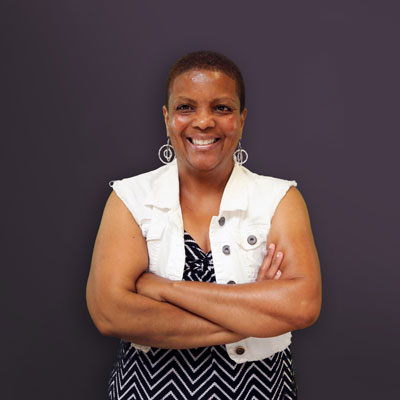 Denise Akers has worked in health care for 25 years. She's served private, state and faith-based community organizations in roles ranging from health education and community health to medical claims and human resources. Akers is especially proud of her part in bringing the Affordable Care Act to Maryland, enrolling thousands of Prince George's and Montgomery County residents in health care coverage. Akers has also served as a health educator and health department chair for the Prince George's County Public School System.
Akers holds a Bachelor of Science in Healthcare Administration from Columbia Union College and a Master of Science in Administration with a concentration in Public and Community Health from Trinity University. She currently teaches at Trinity as an adjunct health sciences professor.
In May 2019 Akers graduated from AACC, summa cum laude, with her associate degree in Addictions Counseling and certificates in Human Services and Veterans Counseling. She is currently working to open a re-entry substance abuse center named The Forgotten Ones.

Nicole R. Williams, Ph.D.
Before becoming a professor, Nicole Williams, Ph.D., worked nine years in the human services field. Today she's a full professor and the academic chair of Human Services at AACC. Williams is active in both the college and wider communities, serving on several boards including that of Jewel House Inc., Destined to Speak Inc., and the Community Advisory Board for Housing Commission for Anne Arundel County. She is a member of Alpha Kappa Alpha Sorority and a former mentor through Big Brothers and Big Sisters. Williams also works with the Student Achievement and Success Program, is the club advisor for the Human Services club, and has served on several committees within the college.
Williams is from Baltimore. She received her bachelor's degree in psychology from Bowie State University and a master's and doctoral degree in social psychology from Howard University. She was awarded AACC's Dr. Martin Luther King Jr. Zeitgeist Award for helping the college achieve its equal opportunity and affirmative action goals. She also received the NISSOD Teaching Excellent Award and most recently the National Role Model Award. Williams is committed to the field of human services as she continues to serve her community and provide the highest quality of education for the future generation of professionals.