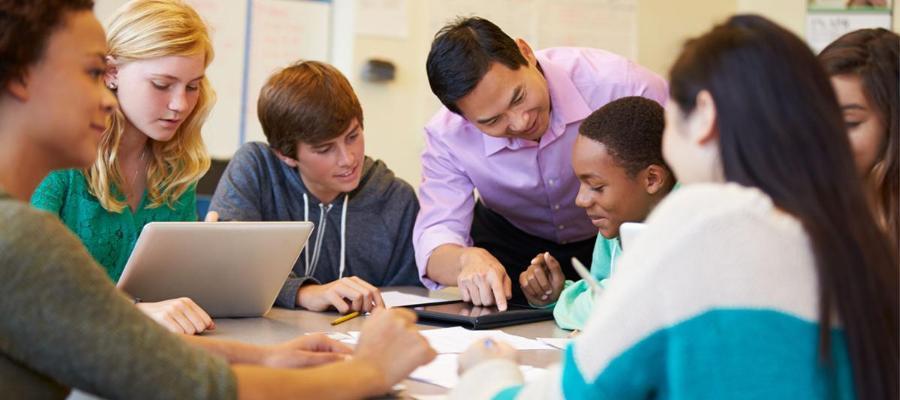 Whether you've always wanted to be a teacher or you've recently discovered a passion for teaching or working with children, the Teacher Education and Child Care Institute (TEACH) is the perfect place to begin your path to the classroom.
We offer a variety of degrees and programs for those interested in teaching infants to adults and every age and grade level in between. Our credit courses help future teachers work toward Maryland teacher certification requirements and provide opportunities for recertification and professional development for experienced teachers and professors. As experienced and compassionate educators, our faculty members are engaging, caring and dedicated to helping our students succeed.
---
Career Degrees
AACC offers the following Associate of Applied Science (A.A.S.) degrees. The state of Maryland refers to the A.A.S. as a career degree, because it's intended to provide you with skills to enter the workforce. In some cases, AACC has entered into transfer agreements that allow these degrees to transfer to select colleges. A list of active agreements may be found on this website. You can also learn more about transferring from AACC to continue your education.
Early Childhood Development, A.A.S.
This degree is designed for students interested in becoming a lead teacher or director of a child care center or the director of a before- or after-school program.
Transfer Degrees
The TEACH Institute is proud to offer the Associate of Arts in Teaching (A.A.T.). As an additional transfer option, AACC offers the Associate of Arts (A.A.) in Teacher Education for secondary education and special areas. Both degrees will prepare you to transfer to a four-year institution. Whichever path you choose, we strongly encourage you to meet with an advisor to structure your AACC studies to meet your specific transfer goals.
Associate of Arts in Teaching (A.A.T.)
This degree is designed for students interested in teaching in an elementary school. It represents the first half of a bachelor's degree and transfers in its entirety to a Maryland college/university, allowing the student to transfer directly into the professional program there.
We offer A.A.T. degrees for these subject areas:
Teacher Education, A.A.
The Teacher Education Associate of Arts degree is designed for students preparing to transfer to a four-year institution to obtain a baccalaureate degree and earn Maryland teacher certification. The program incorporates foundational coursework in teacher education, content coursework and a field-based experience at the appropriate level of teacher certification. The degree is for students who plan to enter secondary education (seventh through 12th grades) or a pre-K through 12th grade content area such as health, art or physical education. Students must consult with the teacher education advisor for course planning.
Credit Certificate
TEACH Institute also offers the following certificate.
Life and Engagement Coach
Coaching is about supporting people as they move from Point A to Point B and beyond. For participants interested in becoming a certified coach, this program fulfills the 125-hour coach-specific training requirement for the Associate Certified Coach (ACC) Level 2 pathway through ICF. Participants can also complete four coaching course to earn the credit or non-credit Life and Engagement Coach Certificate through AACC.
---
Additional Studies in Education
Letter of Recognition
Pathway to Teaching Adults Letter of Recognition
This sequence of six 1-credit courses is designed to support those who teach adult learners. The credit program provides an opportunity to focus on successful teaching and learning with emphasis on enhanced instructional effectiveness.
Teacher Certification for Career Changers
Individuals with a bachelor's or master's degree in an area other than education can pursue initial teacher certification. Available options include (1) completing certification requirements as outlined by Maryland State Department of Education (MSDE) certification regulations. (2) pursuing a Master of Arts in teaching in a Maryland approved program and (3) enrolling in a Maryland approved alternative preparation program (MAAPP).
Learn more about teacher certifications for career changers.
Early Childhood Challenge Exams
High school child development students or any person who has successfully completed an approved 45-hour pre-service training may be eligible to take a challenge exam.
Interested in Noncredit Courses?
If you aren't interested in earning a degree, the TEACH Institute offers a variety of job training and professional development courses.
Learn more about the TEACH Institute.
---
Related Studies
If Education sounds appealing, but you'd like to compare it to other AACC offerings, check out one of these related studies!