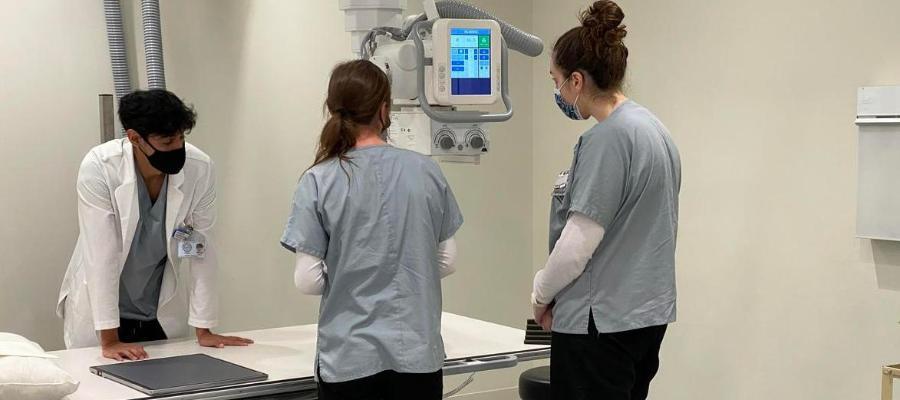 Learn to use advanced medical technology to help doctors properly diagnose patients.
Radiologic technologists take images of a patient's body so that doctors can make a proper diagnosis. You'll learn how to prepare, operate and maintain the imaging equipment as well as imagining positions, procedures, techniques and processing. Our nationally accredited program will prepare you to work in a number of medical environments. You will be exposed to a wide range of technology in our state-of-the-art labs, and to diverse patient populations at 18 clinical sites.
The Radiologic Technology program at AACC has a 100% first-time pass rate for the National American Registry of Radiologic Technologists (ARRT) exam, as well as a 100% rate of employment for graduates within six months of completing the program.
---
Career Degree
The School of Health Sciences offers the following Associate of Applied Science (A.A.S.) degree. The state of Maryland refers to the A.A.S. as a career degree, because it's intended to provide you with skills to enter the workforce.
Radiologic Technology, A.A.S.
Anne Arundel Community College offers a two-year, five-term Associate of Applied Science (A.A.S) degree in Radiologic Technology. Students also are eligible to sit for the National American Registry of Radiologic Technologists (ARRT) exam and to apply for Maryland Licensure.
Loading... in the AACC College Catalog.
---
Job Outlook
Our Radiologic Technology program prepares you for entry-level employment in hospitals, medical offices, imaging centers, clinics, urgent care centers, mobile settings and newly evolving careers such as radiologic industrial hygiene.
With additional education and clinical experience, registered radiographers can specialize in:
Computed tomography (CT)
Magnetic resonance imaging (MRI)
Mammography
Sonography
Interventional radiography
Quality management applications
Many of our students also go on to earn bachelor's or master's degrees or certificates in other imaging modalities. For information on what you can do with a Radiologic Technology degree, visit the American Society of Radiologic Technologists' website.
Learn more about radiologic technology's career opportunities, median salaries and job outlook by checking out AACC's Career Coach.
---
What Our Students Say
---
Transfer Opportunities

If you decide to earn your A.A.S. degree in radiologic technology, you can transfer to complete your four-year degree. We have partnerships and transfer agreements in place with many colleges and universities so you can easily transfer when you're ready. Transfer agreements (or articulation agreements, as they're officially called) are formal arrangements between institutions that allow certain credits to transfer seamlessly from one school to the other. After completing your degree, you can seamlessly transfer to:

In addition to these colleges, you can work with a transfer advisor to set up a specific plan to transfer to the four-year school of your choice.

Scholarship Opportunities

Paying for college should be simple! Scholarships are available for the radiologic technologists of tomorrow.