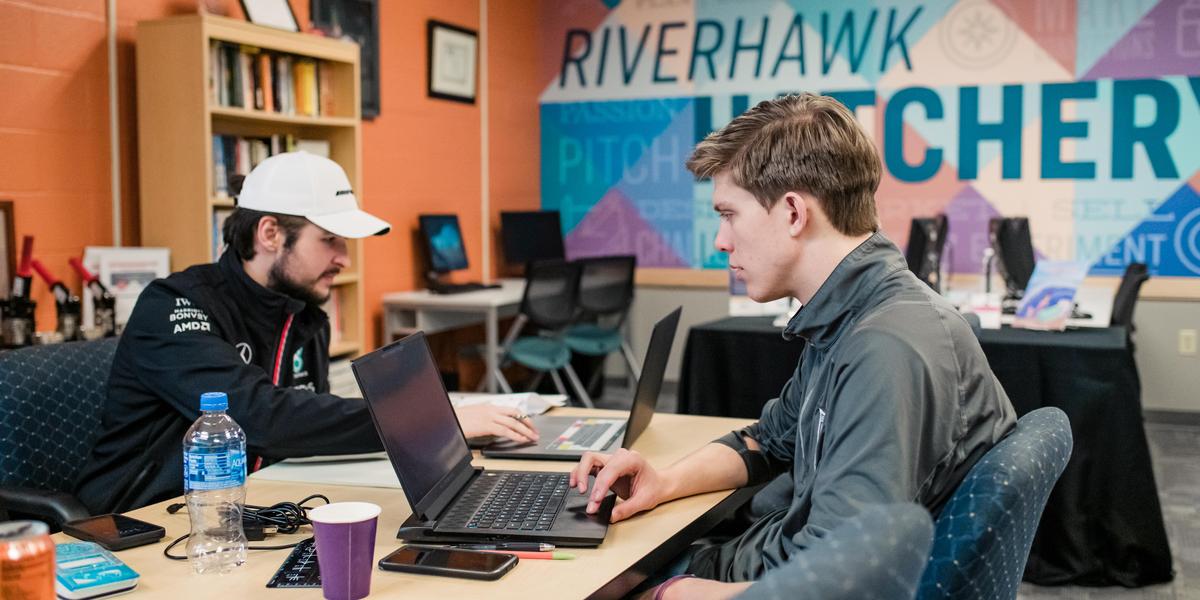 You CAN expand your knowledge while nurturing your big ideas! The Entrepreneurial Studies Institute (ESI) offers the courses, professors, mentors and resources you need to launch and grow your business. We'll help you develop a comprehensive understanding of entrepreneurship and provide the tools to identify business opportunities, join entrepreneurial ventures or work for an established organization. ESI graduates are in demand by growth-oriented companies wanting to incorporate entrepreneurial vision and innovation in their firms.
Who We Serve
Whether you're straight out of high school, took a break from your education to start your business or already have a degree: we're here for you. Any credit or noncredit AACC student, regardless of their field of study, can take advantage of the services and resources of the Entrepreneurial Studies Institute. In fact, while many of our students pursue an associate degree in Entrepreneurial Studies, more students earn a certificate in Entrepreneurship while studying to become massage therapists, personal trainers, electricians, child care providers, restauranteurs, architects and more.
What you can expect
Our curriculum is founded on the concept of engaged learning, meaning it's designed for students to be actively involved, but you should plan on taking it a step further. Prepare to be enthusiastic, collaborative, open to new ideas and willing to put yourself out there when it comes to learning. Our instructors and advisors serve as coaches who are eager to work with you. All have been executives, small business owners or entrepreneurs and know how scary and exciting it can be to start your own business. Know they will encourage you every step of the way, and if you hang in there, soak in the knowledge and try hard, you're bound to see improvements in your public speaking, time management, negotiation skills and leadership.
---
Majors and Offerings
The Entrepreneurial Studies Institute offers an associate of applied science degree in entrepreneurship, and for students majoring in other fields who are looking for a value-added credential, we offer the six-course (18 credit) credit certificate. For individuals working in licensed professions, there is a four-course (12 credit) certificate to help you start your business as an electrician, a CPA, an HVAC professional, etc.
Already have a degree and interested in picking up a course or two? You're welcome to enroll in a single credit course or choose from dozens of noncredit courses in business, entrepreneurship and technology that can help you better manage your books, write a business plan or set up your internet business.
Learn more about majoring in Entrepreneurship.
---
Faculty and Staff
No more theory-only instruction! Get ready to apply your learning to the real world and to your professional pursuits with useful, practical, hands-on information from faculty with experience as business executives and entrepreneurs. They not only teach, they coach and lead. Start your academic planning with an academic advisor, but if you would like to learn more about the Entrepreneurial Studies Institute or which offerings are best for you, we are here to help.
Academic Chair
Faculty
Office Staff
Mentors
Academic Advisor
---
Resources for Students
Any credit or noncredit AACC student, regardless of their field of study, can use the Hatchery, apply for scholarships and participate in the competitions.
Hatchery
Scholarships
The Big Idea Competition
Business Pitch Competition
Entrepreneurs' Club (E-Club)
HawkTrade
Helpful Resources