STUDENT SERVICES
Learn more about our services, in-person hours and other resources.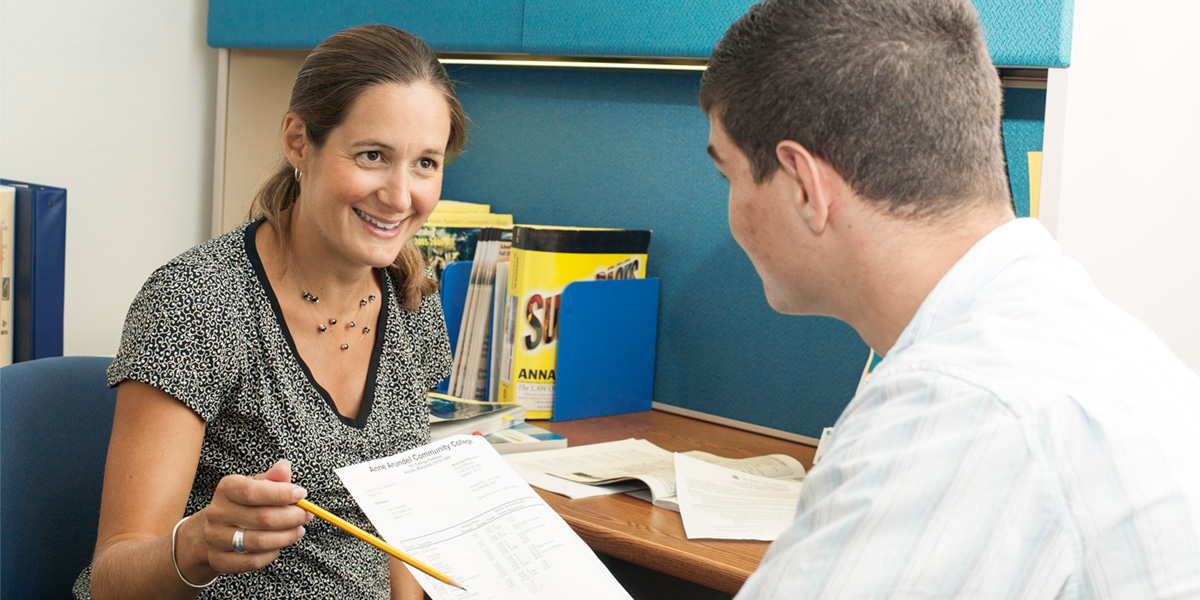 At AACC, you'll never be alone during your educational journey. Whether you're deciding what courses to take, preparing to transfer to a four-year institution or exploring long-range career options, our excellent team of academic advisors is passionate about helping you achieve your goals. That's why the next step in your admissions process is to contact an academic advisor.
---
Personal Advising Sessions
Even if you haven't fully committed to attending AACC, contact an academic advisor. Advisors have a wealth of information that can be enormously helpful during your college selection journey. Each of our fields of interest (as well as undecided and custom transfer) have an academic advisor(s) with special knowledge of that area.
Advisors Available Online and In Person
Advisors are available to connect with students remotely, by appointment. Visit the Virtual Advising Center to schedule your appointment.
To access the Virtual Advising Center:
New Students:
Set up your access to MyAACC
Join the Virtual Advising Center using this link.
Log into MyAACC and Select Access My Courses
Navigate to Courses
Select Virtual Advising Center
Returning Students:
Log on to Canvas
Navigate to Courses
Select Virtual Advising Center
Not an AACC student yet? No problem! Simply follow the Application Process for Credit & Degree Seekers.
Email advising@aacc.edu if you have any problems accessing the Virtual Advising Center.
---
Who is my Advisor?
Architecture and Interior Design
Business
Engineering and Math
Health and Human Services
Hospitality Management and Culinary Arts
Humanities and Social Science
Law and Criminal Justice
Science
Teacher Education
Technology
Visual Arts
Custom Transfer
General Exploration (Undecided)
Non-Degree Students
---
Get the most out of advising
Follow these tips to get the most out of your advising session:
Be sure you've submitted your AACC application and completed requirements for determining placement before your advising session.
Write down your list of questions so you get the answers you need.
Bring your high school transcript, SAT, ACT, AP and IB scores.
If you're a transfer student, unofficial transcripts from your prior institutions will help your advisor in planning your classes. However, an official copy of your transcripts from all previous academic institutions must be sent to AACC's records office for credit evaluation.
If you know the degree you'd like to pursue, review the program planner.