We're All Students
As we continue to reflect on the future of education, we want to explore the many ways in which we learn. Join host Dan Baum as he talks with April Copes, Ph.D., about what we are discovering during this pandemic and her passion for transformation through connected learning.
Read TranscriptListen with scrolling captions
---
Our Guest
April Copes, Ph.D.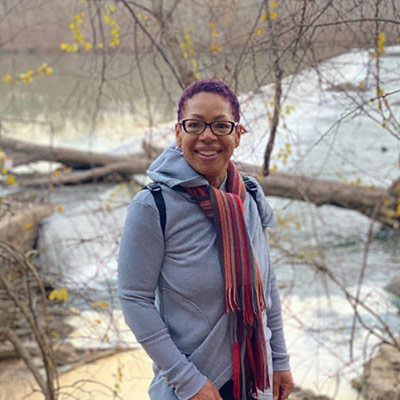 After 16 years as a District of Columbia high school teacher, Associate Professor April Copes returned to school to earn one more degree and transition to higher education. She has been on the Communications faculty at AACC since 2012, and in 2021, became director of the Learning Communities program. Copes has co-led the "Just Us: Social Justice for a Just World" learning community since 2014. She serves on the Communications department's Model Course Team, Social Justice Collaborative, and enjoys planning events for Black History Month, Women's History Month and voter education.
Copes' teaching philosophy involves nurturing her students' self-awareness, commitment to community and personal growth. She believes her primary job is to empower students to learn how to use communication to live a life they love. She applies engagement coaching skills as she builds community and a fun, supportive environment in her classes. Service learning, collaborative project-based learning and social justice issues are key features in her teaching.
Born and raised in the Bronx and Harlem, N.Y., Copes is a mom to two adult children and Nana to four grandchildren. One of her recent adventures grew out of her love of children's literature and fun as a core value: a kids' book club on Zoom for youths in her family. Her community service work includes serving on the board of directors for the Anna V. Waters Scholarship, which provides scholarships to African American "C" students. She loves staying physically active with gardening, bike riding, playing tennis, hand dancing, roller skating and, most recently, hiking and outdoor yoga.
Copes' academic training includes a doctorate in Communication and Culture, and Master's in Education in Curriculum and Instruction from Howard University, and a Bachelor of Science in Speech Communication from Syracuse University.