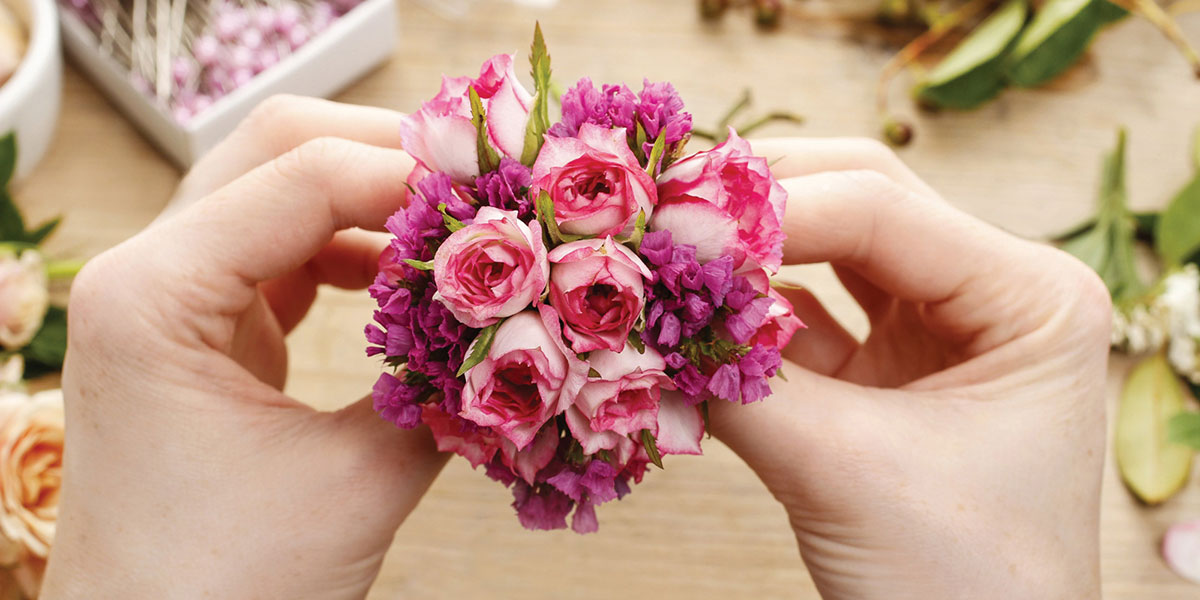 Thank you for your interest in our Floral Design program! There is something in our program for everyone! Our floral design courses are designed for flower lovers of all kinds.
AACC is an Education Partner of the American Institute of Floral Designers (AIFD®). Our comprehensive curriculum embraces the criteria required for AIFD certification and is dedicated to providing professional, on-trend, instruction for anyone who simply loves flowers or is interested in a successful floral career. To learn more about the industry certification requirements, visit the American Institute of Floral Designers website.
---
AIFD Certified Floral Designation
How do I obtain my Certified Floral Designation (CFD®) through AACC?
Step 1
Successfully complete the classes on the AACC recommended course list for floral design or certify that you have the requisite experience in and knowledge about the course material.
Step 2
Purchase "The AIFD Guide to Floral Design."
Take the following required courses*:
FLR-351 Floral Design: Principles of Design
FLR- 353 Floral Design: Design Applications
FLR- 354 Floral Design: Design Styles
FLR-352 Floral Design: Analysis and Critique
FLR-355 Floral Design: Advanced Mechanics and Techniques
* Note: For students who have completed FLR-345 Foundations of Floral Design: Part 2, all courses are highly recommended. Only FLR-352 Floral Design: Analysis and Critique is required.
Step 3
Attain a score above 3.2 on a 5-point scale in FLR-333 Advanced Floral Design Evaluation class at AACC. Sections Coming Soon
Step 4
Complete the AIFD® online test and receive an 80% or higher.
Note: There is a fee and completion time limit. Visit the American Institute of Floral Design website for requirements.
Floral Design Recommended Course List
If interested in pursuing your CFD® with the American Institute of Floral Design, we recommend you successfully complete the classes listed below, in addition to required classes listed in steps 2 and 3.
---
Courses
FLR-332 Fresh Flowers: Churches and Places of Worship
FLR-336 Flower Identification A-Z
FLR-344 Introduction to Floral Design
FLR-343 Foundations of Floral Design
FLR-341 Wedding Flowers: Business Essentials
FLR-346 Sympathy Flowers: Sprays and Arrangements
FLR-347 Personal Wedding Flowers
FLR-348 Seasonal Flowers
FLR-349 Flowers to Wear
FLR-350 On-Trend Wedding Reception New Sections Coming Soon
FLR-351 Floral Design: Principles of Design
FLR-352 Floral Design: Analysis and Critique
FLR-353 Floral Design: Design Application
FLR-354 Floral Design: Design Styles
FLR-355 Floral Design: Advanced Mechanics and Techniques
FLR-356 Floral Design Lab
FLR-357 Floral Design: Capstone Portfolio New Sections Coming Soon