Learning Through Experience. Meeting Community Needs.
The Sarbanes Center helps students gain real-world experience and explore careers by connecting with businesses, government agencies, schools and nonprofit organizations. We offer hands-on learning opportunities related to interests and majors.
Having experience can be an advantage in pursuing educational and employment goals. Experience helps you become career-ready, acquire skills, gain knowledge and network in the community. If you're unsure of your academic or career path, or even if you know exactly what you want to do, start exploring today!
---
For Employers and Community Members
The Sarbanes Center welcomes the opportunity to build sustainable partnerships with businesses, government agencies, schools and nonprofit organizations to engage AACC students in meaningful experiences in the community. AACC students have a wealth of talent, skills and enthusiasm and can make valuable contributions to your organization. Contact us to learn more about how we can work together.
---
Partner of the Year Project
The Sarbanes Center Partner of the Year project brings together all of the resources of the center in a year-long collaboration to make a greater impact in the community. A community partner is selected through an application process, and community-based activities are designed to engage students in outstanding and relevant real-world learning experiences while also meeting the needs of the community partner.
Our Partners of the Year
FY19: Anne Arundel Food Bank
FY18: Seeds 4 Success
FY17: Hope for All
FY16: Hospice of the Chesapeake
FY15: Rebuilding Together
FY14: Centro de Ayuda
FY13: Partners in Care
---
National Recognition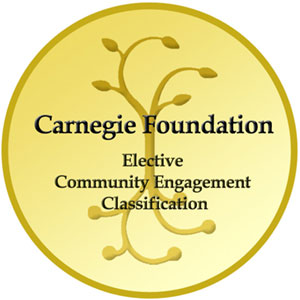 Anne Arundel Community College received the 2015 Community Engagement Classification by the Carnegie Foundation. The elective classification recognizes applicants for excellent alignment among campus mission, culture, leadership, resources, and practices that support dynamic and noteworthy community engagement. AACC is one of only 17 community colleges that hold the designation in the nation.