Astronomy, Chemistry, Physics, and Earth Science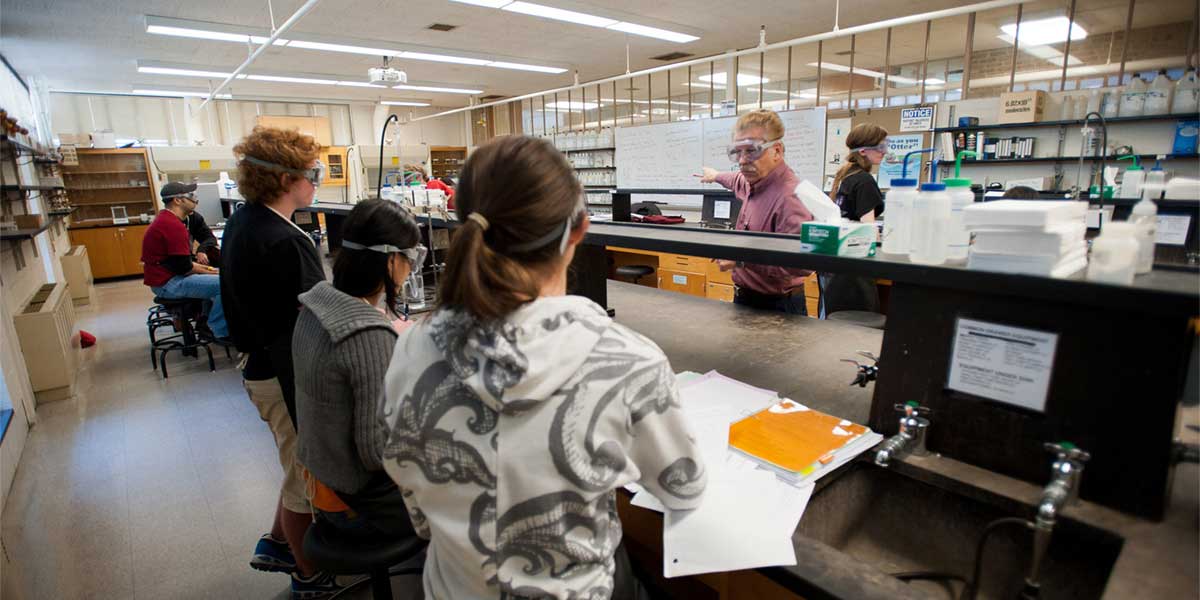 Science is the study of the natural world based on facts learned though experimentation and observation. As a discipline it requires curiosity, creativity, imagination and focus. It uses the tools from many other disciplines to develop, present and share ideas about the world and borrows clues from many other disciplines to identify areas for investigation. While science as a whole is divided into two interrelated sub-disciplines – physical science which focuses on physical phenomena and life science which focuses on life and living systems – collectively the areas of science improve our understanding of the world and how it works. If the physical world, whether at a micro-level or beyond this planet, fascinates you, one of the many sciences that make up physical science may be right for you.
---
Faculty and Staff
Department Chair
Full-time Faculty
Technical Staff
Instructional Coordinator
Office Staff
---
Research Experiences
Interested in getting even more out of your academic experience? Look no further! AACC offers a wealth of opportunities to engage in authentic, student-driven research.
---
Resources for Students
If you're taking a science course, these resources are for you! They were developed to help you complete your science course requirements successfully.
Help with Course Content
Super Science Club - Three Student Clubs in One!
AACC's Super Science Club provides an opportunity for students and members of the community who are interested in Earth science, chemistry and astronomy to share their enthusiasm about the subjects!
Events are centered around increasing student awareness of the AACC Earth Science, Chemistry and Astronomy programs. Club members expose students to careers in these disciplines through lectures by guest speakers and local field trips. They promote these sciences to the public through student-run events and participation in local events. Examples include Planet Walk, held in conjunction with the Friends of Anne Arundel County Trails, and "star parties" using the telescopes at the AACC observatory on a regular schedule that are open to the public and club members. Other outreach STEM events offered by AACC include Science Night and Science Day, as well as, those offered outside the college like the Bowie BaySox STEM days and AACPS Science Fair judging.
Field Trips
Field trips are paused for right now, but we hope to get back to our normal pattern as described below soon.
Several of our courses regularly include field trips as part of the curriculum. For example, each fall and spring term, oceanography, meteorology, Earth-space science and environmental science students are given the opportunity to participate in hands-on activities during three-hour educational cruises on a skipjack or a schooner sailing vessel. These cruises are coordinated through the Living Classrooms Foundation and usually are conducted in Baltimore's Inner Harbor. Students participate in several activities on board the sailing vessels which include: raising and lowering the sails, trawling for fish, taking water quality measurements, deploying a plankton net and investigating oyster anatomy. In addition, students are exposed to interesting stories and landmarks surrounding Baltimore's Inner Harbor, including Fort McHenry.